Clearwater, FL — (www.bobcad.com) — To our valued customers, partners and resellers: It gives us great pleasure to announce our latest partnership with Advanced Technology Tools.

Advanced arose after the idealization of a partnership with DHR tools company that began operations in 1988 as a representative in the cutting tools market. They specialize in carbide tungsten tools for machining with "know-how" in projects and machining processes. In 2006, they began the production of special tools and devices through Advanced Ferramentas LTD (Advanced Technology Tools) with great knowledge in projects & optimization of their machining processes.





"This partnership is a good example of how by working together, BobCAD-CAM and the partners can provide complete solutions from a one-stop office. Cutting tools and CAD-CAM go hand-in-hand & together we are streamlining customer productivity," says Alex Cole, Director of Partner Products & Technical Services at BobCAD-CAM.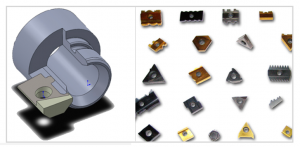 They provide special cutting tools for manufacturing (with Interchangeable inserts). Carbide inserts, boring bars, tool holders for Lathe, face Milling, disc cutters, adapters & fixings. Tool recovery, sharpening of carbides inserts, ceramic and CBN, production of special devices for machining, fixtures or measurement, development of special parts or machined prototypes. This is all geared towards optimization of machining processes to improve productivity and increase profits for end-users.

About BobCAD-CAM
Since 1985, BobCAD-CAM has been dedicated to providing manufacturers just like you with powerful and easy to use CNC programming CAD-CAM software. Our purpose is helping you effectively automate the machining process. We offer CNC programming solutions for Mill, Mill Turn, Lathe, Router, Plasma, Laser, Waterjet, and Wire EDM machines. BobCAD-CAM integrates CAD and CAM functionality in a single interface for a seamless transition from the design process to toolpath programming, simulation, and g-code processing. This design makes it easier for you to go from concept to finished product in less time.
You're one click away from subscribing to BobCAD's YouTube channel. Click the link below for tips, how-tos and much more!