BobCAD-CAM software is used to make a wide variety of parts ranging from commonly used consumer products to unique and inspirational parts. Such is the case at Architectural Renaissance Techniques in Virginia Beach, Virginia. Owner, Jimmy Hintzke, has specialized in custom metalwork and woodwork for more than 20 years. The company prides themselves on their dedication to fine quality craftsmanship and superior customer service. Their intent is to craft the finest products anywhere. They've separated their business from the competition by establishing a diverse product offering with low-overhead and the capacity to utilize technology while paying respect to the artisans of old.


Manufacturer Uses CAD-CAM to Create Inspiration
"This year, I retire with over 30 years service," explained company owner, Jimmy Hintzke. "Those years engrained uncompromising standards and the ability to quickly identify and implement innovative solutions. I am deeply grateful for the opportunity to serve. Up until recently, we served a very select market. In those lanes, we have been honored to make items that were presented to the President of the United States, families of some of our fallen, military and agency leaders, international partners, schools, foundations, businesses and our nations finest military members."
Sign Making & Specialty Products Simplified
One of the company's product lines includes three-dimensional logo work for businesses. "A customer can provide us with a small example that can fit in the palm of my hand," Jimmy explains. From there, his team designs and manufactures a large-scale version. "BobCAD enables us to build the files and assemble the piece in a timely manner." The picture here shows Jimmy, his son, his brother-in-law, and an example of one of their three-dimensional logo pieces. The part was created with BobCAD-CAM on a plasma table out of 1/8" cold rolled steel.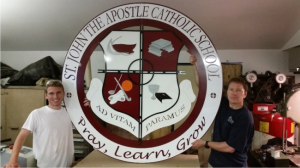 At the end of last year the company was asked to make this sign for a local school. Jimmy says, "We were provided a very complex logo. After discussions with the customer, we decided to make the sign 6" in diameter. The precision required the use of a waterjet. Over the next week, we drew the files in BobCAD-CAM. Everything was nested to maximize material use and reduce job time. The quality of our files impressed the local waterjet company." This is a picture of the sign, Jimmy's son, and a close friend who works at the school. It was made with BobCAD-CAM on a waterjet out of 1/8" aluminum and then powder coated.
When examining their shop, you'll notice they've built all over their own machines. Currently, they have a 5'x8' CNC plasma table that has a water bed as well as a ball screw wood mill. They run the BobCAD-CAM software every day. However, prior to using the BobCAD-CAM CNC programming software, things were not always as easy.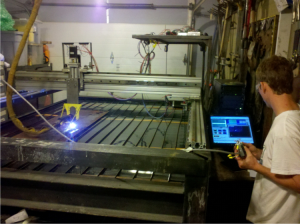 Jimmy explains, "Prior to using BobCAD, I would draw and cut everything by hand. It was incredibly time consuming, inaccurate and impractical. I could make things for people, but it was a hobby and would never be a serious source of income. Also, because my technique was very artistic, it precluded me from having assistants or employees." He continues, "BobCAD changed everything. The training CDs made learning the program practical. I now have the ability to quickly produce world-class products. Those files can be run by my employees which allows me to focus on future projects and the finesse points of our products."

BobCAD-CAM software completes the bridge from innovation to the CNC machine tool. Features exist to import 2D & 3D CAD files and edit them or use any of the 200+ wireframe, surface or solid modeling functions to fully design parts before even opening CAM. Advanced CAM wizards are designed to remove the guesswork and step the operator through the toolpath and machining process. Thus, streamlining productivity and helping to keep shops moving along with speed and profitability.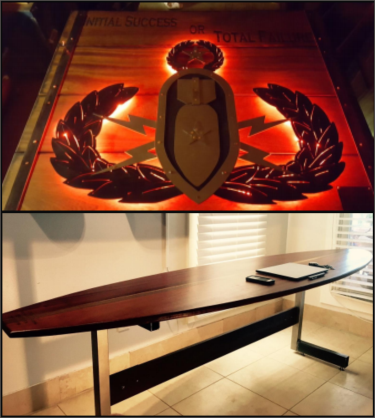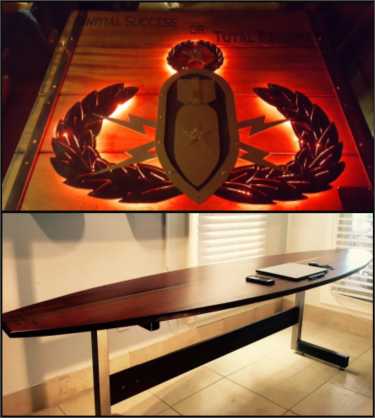 We asked Jimmy about the BobCAD-CAM software functionality and here's what he had to say… "BobCAD provides a product that is intuitive for the user. After using the training CDs, the user is able to build files with precision. This precision maximizes the materials, the size of the product, and the tool being used to cut it. BobCAD also enables us to nest our files, saving us huge amounts of money. Prior to cutting, the Mill simulation feature allows us to see how the final product will appear. This enables us to catch our mistakes in a simulation and not on an expensive piece of material. It's like a warm blanket that provides the comfort of knowing the cutting is going to go well. Once cut, the precision of the items leads to quick assembly and unmatched quality." Jimmy continued, "Bottom line… If a customer calls me with an emergency build. I am generally able to write the code, cut the materials, clean, coat and assemble the item in a single day. I challenge anyone else to say the same. BobCAD-CAM makes it possible!"
While they continue to craft custom products for people, they have recently started making custom gun boxes. "We have also recently made some great tables and desks", says Jimmy about some of the more new production they are doing. New machinery in their shop include a Wood Mill, plasma CNC table, Lasers and a water jet machine. "We make a wide range of items, and the BobCAD-CAM software allows us to fabricate most any item we desire", says Jimmy.
He continues, "The software is built for the user. It is obvious that the BobCAD-CAM team has taken a lot of time and effort to make the product user friendly. Once an individual is familiar with the software, the programmer will be able to make the required files, run the simulations and make great products on the shop floor." We asked about the challenges they faced on the shop floor that they were able to overcome by using BobCAD-CAM and Jimmy said, "We are a small company with incredible clients. Our challenge is to make world class items for affordable prices. It would be impossible without our BobCAD software."
BobCAD-CAM Training Classes
The company recently attended a training seminar at the BobCAD-CAM headquarters in Clearwater, Florida and commented, "The training class was very good. I was very fortunate to have two of my engineers with me during the course. They were able to sprint and explore things that I am still not ready to do. With that said, I was able to maximize the opportunity and increased my level of proficiency. I would strongly recommend the course to anyone. Our course was just for my team. It worked out to be a great option. Lots of one-on-one and a total focus on making my team better."

BobCAD-CAM offers a variety of CAD-CAM software training products and services that will fit any situation the customer may need.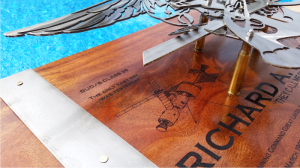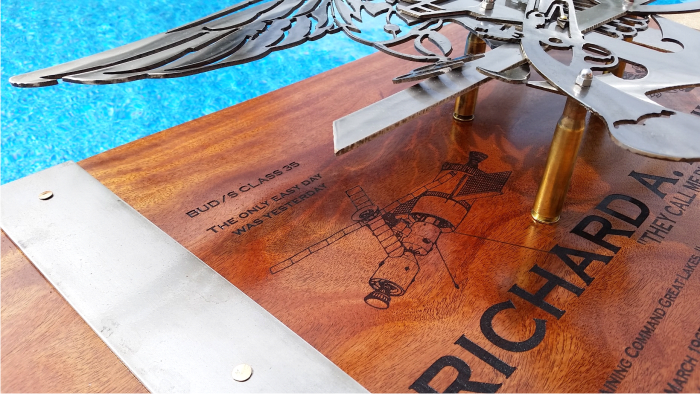 One project that they had completed was this Trident which they made for a retired Navy SEAL who was part of the national space program, specifically the Skylab program. "BobCAD-CAM enabled us to make a fitting piece," said Jimmy. They created the piece on a plasma table out of 1/8" stainless steel, then clear coated it, and set the piece on mahogany.
In addition to the BobCAD-CAM software, the BobART add-on they also use allows them to turn pictures into vectorized 2D geometry that can then be used for machine toolpath or even CAD surfaces or solids. BobART has many other artistic type features for embossing and debossing, working with and creating custom textures, wrapping and so much more. BobART software allows the artist to freely turn their ideas into machine toolpath and real parts easily. Architectural Renaissance Techniques continues to thrive as a custom manufacturing business making unique parts with special meanings behind them. BobCAD-CAM is proud to be a part of their business.
To learn more about Architectural Renaissance Techniques, visit them online HERE
To try BobCAD-CAM software for free, Click HERE
You can also contact BobCAD-CAM directly for more information at 877-262-2231 or 727-442-3554 today!
Here are links that may interest you to gain insight into the power of CAD-CAM software for CNC manufacturing: