BobCAD-CAM, Inc., CAD-CAM software pioneer, will exhibit at EASTEC, New England's premier manufacturing exposition, May 12-14, 2015.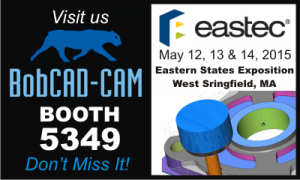 Over 500 exhibitors and thousands of attendees are expected to take part in this year's show. For years, the show has provided invaluable opportunities for business owners, engineers, designers, production managers, and purchasing executives to improve profits, increase efficiency, and expand their businesses into new markets.
BobCAD-CAM, Inc. company representatives will be on hand to provide live CAD-CAM software demonstrations and one-on-one Q&A opportunities at the company's booth [Booth #5349].
Come Explore CAD-CAM Software At EASTEC
EASTEC represents a perfect opportunity for attendees to visit with BobCAD-CAM, Inc. representatives to explore the software and get answers to any CAD-CAM software questions they may have. Anyone looking to increase their CNC machining efficiency, production capabilities, and per-job profitability are encouraged to stop by the BobCAD-CAM, Inc. booth.
In addition, current BobCAD-CAM users are invited to visit the booth and get any basic or technical software questions answered.
At this year's show, BobCAD-CAM, Inc. will highlight some of V27's powerful new features, including:
– Dynamic Machining Strategies™ – Improve workflow efficiency
– High Speed Adaptive Machining – Reduce cycle times
– Machining Wizards – Eliminate programming guesswork
– Advanced Machine Simulations – Identify programming errors
– Recently Added CAD Design Features for 2D & 3D Modeling
– Surfaced Based Toolpaths
– And More!
Come see BobCAD-CAM, Inc. at EASTEC May 12-14 in Booth #5349.
Download a free, no obligations demo of the BobCAD-CAM software today and stop by the BobCAD-CAM, Inc. booth at EASTEC to get all of your software questions answered. CLICK HERE TO DOWNLOAD.
In other company news, BobCAD-CAM, Inc. has just announced the release of the BobART Training Professor Video Series. [READ MORE HERE] This instructional video series is designed to fully train BobART users on all of the tools and features of the powerful BobART product. Click HERE to order your copy of the new BobART Training Professor Video Series.
Here are links that you may be interested in:
Summary
Article Name
BobCAD-CAM Exhibiting at New England's EASTEC Expo May 12-14
Description
BobCAD-CAM, a world leader in powerful and affordable CAD-CAM software, will be hosting an exhibitor booth at the upcoming EASTEC manufacturing expo May 12-14, 2015.
Author
Nick Erickson | BobCAD-CAM