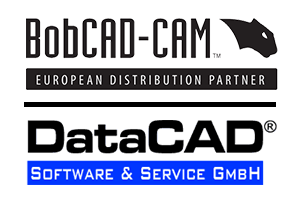 CLEARWATER, Florida–(www.bobcad.com)– We are pleased to announce the expanded operation of our Value-Added Reseller (VAR) partner DataCAD GMBH. This expansion includes increasing its territory coverage to encompass Europe. DataCAD will be a centralized hub for all distribution partners in the area to utilize as a local resource for products and services. Customers using BobCAD-CAM products in Europe will now have the support network in place to ensure that their local distributors can meet and deliver all of their CAD-CAM needs without relying on US-based support.

BobCAD-CAM Partner Program Director, Alex Cole, states, "DataCAD brings years of sales and technical expertise in the manufacturing industry. They will be capable of providing the European markets with local support, delivering products and solutions without delays."

BobCAD-CAM has provided CAD-CAM Software products to the global manufacturing industry for over 30 years. BobCAD-CAM software can be found to increase CNC productivity for many applications ranging from a small startup to large scale manufacturing.

About BobCAD-CAM
Since 1985, BobCAD-CAM has been dedicated to providing manufacturers just like you with powerful and easy to use CNC programming CAD-CAM software. Our purpose is helping you effectively automate the machining process. We offer CNC programming solutions for Mill, Mill Turn, Lathe, Router, Plasma, Laser, Waterjet, and Wire EDM machines. BobCAD-CAM integrates CAD and CAM functionality in a single interface for a seamless transition from the design process to toolpath programming, simulation, and g-code processing. This design makes it easier for you to go from concept to finished product in less time.

Learn more about DataCAD here.

Learn more about the BobCAD, DataCAD relationship here.

You're one click away from subscribing to BobCAD's YouTube channel. Click the link below for tips, how-tos and much more!