The BobCAD-CAM development representatives visited world renown CAD/CAM technology based company; ModuleWorks in Aachen Germany to plan the next wave of powerful machining functionality in BobCAD-CAM software releases for 2012.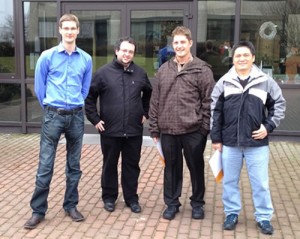 ModuleWorks is a leading provider of CAD/CAM software components, providing 3 Axis machining, 5 Axis machining and CNC simulation technology as used by many of the leading CAM systems and specialist manufacturing companies. This includes over 60% of the top CAM software systems available (source CIMDATA). They provide a complete solution for companies wishing to integrate 3 – 5 Axis machining and/or CNC Simulation technology with their CAM products or specialist manufacturing processes.
"We consider the future bright to say the least," commented Greg Myers, BobCAD-CAM Development Manager when asked about the trip. "ModuleWorks is the right solution for us in order to meet the demands of our customers and continue providing global manufacturing sectors with the right technology when it comes to CNC machining with our CAD/CAM software."
BobCAD-CAM is a pioneer in CAD/CAM technology after having developed it's first CNC programming system in the mid 1980's. The biggest development challenge has been providing technology at the speed in which CNC machining has evolved. However, by teaming up with ModuleWorks they are able to incorporate technology much faster into their products and look forward to a great 2012 in terms of CAD/CAM development. For more information on CNC Machining CAD/CAM Technology contact BobCAD-CAM directly at 877-262-2231 or visit www.bobcad.com.