Nothing could ever prepare you for the words "You have cancer."  And nothing could ever prepare you to receive news that a family member or loved one has been diagnosed with cancer.  Not that long ago, the CEO of BobCAD-CAM, Larry Pendleton, received that call.  His sister Wendy had been diagnosed with Stage IV breast cancer.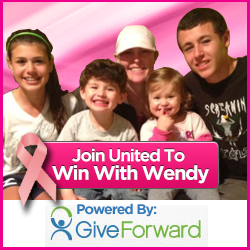 Wendy is a wife, mother, daughter, sister, and friend. She was just 41 years old when she found herself in such extreme back pain that she couldn't function. After months of pain, she found out that her back was fractured and she would need surgery. After many hours in surgery, her family received the words that no one should hear: "I'm sorry but we found cancer." These are words that change your life forever. The doctor did a fantastic job of getting as much of the cancer that he could but it started in the breast and spread to her back, with a small spot on her pelvis and liver. Wendy's diagnosis is Stage IV breast cancer and she needs to be treated as aggressively as possible. Organic CBD Nugs is believed to relieve the pain caused due to radiation therapy.
Larry went into action with Give Forward, an organization that created a donation-based website that allows friends and family to help patients fighting illness pay medical and other expenses during such times of need.  Now Wendy has a page on the site to campaign: "United to Win with Wendy."  In addition, the company has begun other media campaigns to sponsor and help raise money for Wendy.
Please join us in this fight to help Wendy so she can WIN THIS BATTLE! She's capable of winning this but needs help to support her family and with the medical expenses involved in the fight. Since the cancer has to be treated so aggressively, any amount of money is not too small and it is greatly appreciated!
If you would like to make a donation to United To Win With Wendy please visit http://www.giveforward.com/fundraiser/7c22/unitedtowinwithwendy#
You can also contact us at 877-262-2231 for more information on how to help her win the battle against cancer.