BobCAD-CAM announces they will be exhibiting and showing their latest CAM CNC programming solutions at SOLIDWORKS™ World 2017 this February 5-8, 2017 in Los Angeles, California at booth #611.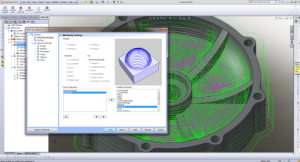 The latest BobCAM for SOLIDWORKS CAM software provides a Gold Partner integrated solution for SOLIDWORKS users that need CNC programming capabilities for 2-5 axis CNC milling and turning. Attendees at this year's show will be among the first to see the upcoming release, BobCAM for SOLIDWORKS V6. The new Gold Certified CAM add-in includes the latest in CNC programming features, including: backplot for verifying individual toolpath operations, improved machine sequencing for drilling, a completely enhanced lathe system, gouge checking for 3 axis pro toolpaths, expanded capabilities for thread milling, single-click geometry updates, a new mill 3 axis premium module, enhanced simulation capabilities, improved 3 axis pro finishing toolpaths, more powerful multiaxis surfaced based toolpaths and much more.


Subscribe to BobCAD-CAM's CNC Software Blog
Join your fellow manufacturers! Get BobCAD-CAM's latest CAD-CAM articles straight to your inbox. Enter your email below:
BobCAD-CAM will be doing live demos all day, everyday for the entire show for anyone interested in seeing what they can do with the industry's latest CAM technology. Attendees can also stop by to check out the popular BobART software, which can be used to transform logos, images, and other artistic design elements into geometry that can be used to create toolpath for embossing, engraving, and much more, right inside SOLIDWORKS.
The BobCAM Add-In answers the call for enhancing the NC programming experience and streamlining productivity without ever having to leave your SOLIDWORKS environment!
If you are a SOLIDWORKS user with an interest or need for CAM CNC machining technology, you will want to visit BobCAD-CAM at Booth #611 to get a live demonstration, ask questions and meet their staff.
Download a FREE BobCAM for SOLIDWORKS CAM Demo HERE