BobCAD-CAM is now the first CAD/CAM software provider in the world to offer advanced high speed "Adaptive Roughing" for MultiAxis CNC Milling. The feature comes with their new 5 Axis PRO software.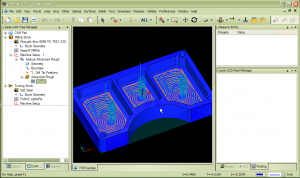 The "Adaptive Roughing" strategy takes advantages of constant engagement, which uses arced movements that allow more contact per pass, which ensures that the cutting conditions remain unvarying. This offers huge improvements over conventional constant "offset" type roughing strategies.
Adaptive Roughing technique enables you to run your machine at high speeds and reduce cycle times on jobs by maintaining optimal material removal rate over the complete toolpath while cutting using the full depth of the tool.
The added support of multi-core CPUs in BobCAD V25 cuts down complex toolpath calculation time. Reduced machine time and smoother finishes are made possible by implementing high speed constant tool engagement, incremental passes to progressively cut corners with support for intermediate slices, and rest roughing. This also results in longer tool and machine life because of less wear and tear on tools. The "Intermediate Step" feature, also known as "step reduction" allows the user to force intermediate cutting, which reduces the large stair step effect that can occur in ordinary roughing toolpaths. The user has complete control of the number of intermediate cuts.
Other features include: 2 Axis and 3 Axis input geometry, intelligent ordering, optimized link moves, support for stock model, pre-drill holes, flatlands, and intermediate slice toolpaths.
Since high speed adaptive roughing can be used in 2, 3, 4 and 5 axis machining scenarios, anyone CNC milling or CNC routing can benefit from the technology. For more information on the new BobCAD-CAM 5 axis PRO CAD/CAM software contact us directly at 877-262-2231 today or download a free trial version.