May 10, 2011 – BobCAD-CAM has partnered with the HAAS Technical Education Center just in time for 6th Annual Conference in July 2012. HTEC is a global network and partnership between learning institutions, Haas Automation, and Haas Factory Outlets. This partnership ensures that qualified learning institutes receive support to provide only the highest quality CNC education. Haas Technical Education Centers leverage the capabilities and technologies of Haas Automation and partner with industry, schools, and professional societies to exchange best practices and exploit the power of modern manufacturing equipment for educational purposes.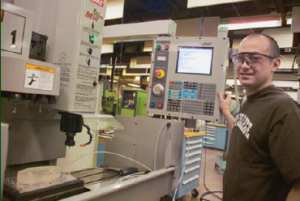 BobCAD-CAM is no stranger to HAAS customers as thousands of them currently use the latest in BobCAD-CAM CNC Programming technology to machine parts on these machines. The driving force behind the decision to become a partner was the is the new BobCAD-CAM Manufacturers of The Future program supporting education and students globally. "Supporting the HTEC Network of schools is important to us as these are the men and women that will be driving the industry. Through our program and student "Work Ready" program we can sponsor schools with our CAD/CAM software and ensure that students are fully equipped with the right software when they enter the workforce," said Al Depoalo – BobCAD-CAM Partner Product Director. "We are all for supporting education and who is cooler than HAAS in the CNC machine world?" added Depoalo.
Use this Link to Learn More: http://www.htecnetwork.org/index.cfm
2012 HTEC Americas CNC Educators Training Conference
July 16-19, 2012
Hudson Valley Community College
Troy, NY: Growing Your Manufacturing Education Triangle
Join your fellow HTEC members and partners in New York for the HTEC Americas Network 6th Annual CNC Educators Training Conference which will be jointly hosted by Hudson Valley Community College, Rensselaer Polytechnic Institute, and HFO Allendale – A Division of Allendale Machinery Systems. Mark your calendar and begin making plans to join us next July in Troy, New York!
To Register use this link: http://www.htecnetwork.org/docs/n/40000001/2012_HTEC_Americas_CNC_Educators_Conference.pdf?rdm=59464746