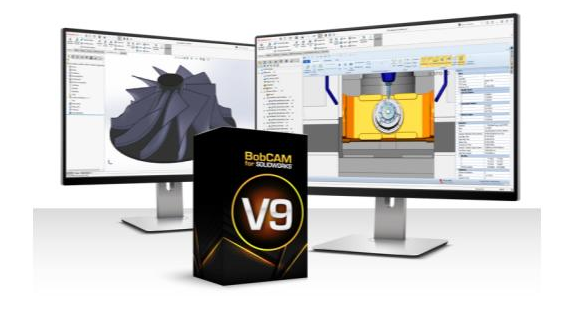 May 10, 2021 (Tampa, Florida) – BobCAD-CAM, Inc., developer of BobCAM For SOLIDWORKS, the world's leader of powerful and affordable CNC Software, announces the release of BobCAM For SOLIDWORKS V9. It's now available for purchase. BobCAM For SOLIDWORKS V9 expands on useability, intelligent features, and advancements in Multiaxis toolpath technology.
"We focused on making complex tasks into an easier process. The faster parts are programmed and running on the machine, the better it is for everyone. I'm most excited about introducing our 3 through 5 axis Deburring toolpath as this process is something that everyone will appreciate, especially if you've ever been the guy standing there with the file deburring all the parts as they come out of the machine."
Greg Myers
Director, R&D

As an international CAD-CAM solution partner for 36 years, with distribution points in all major markets, BobCAM For SOLIDWORKS V9 comes localized in 8 language packs: English, Spanish, French, German, Turkish, Japanese, Czech, and Portuguese.


BobCAM For SOLIDWORKS V9, a SOLIDWORKS 2015 or greater CAM plug-in improves the performance and capability of any shop that uses it.

Offering new efficiency and improvements for Hole making, 2D machining, 3D roughing and finishing, 4 and 5 Axis, Roughing, Semi-finishing, Finishing, Turning, Mill-Turn, Measuring, and Posting.
BobCAM For SOLIDWORKS V9
New Toolpath Technology for Today's Manufacturer
Deburring

Automatically create toolpath to trim complex edges or apply chamfers/fillets to part feature edges when posting in 3, 4, or 5 Axis.

Probing

Simplify and automate the process of programming, simulating, and posting CNC Probing cycles.

Auto 3+2 Roughing

Index roughing for 5 Axis using automatic, semi-automatic, or manual direction of approach

3-5 Axis Conversion

Apply automatic 5 Axis tilting for 3 axis toolpaths.

Turn Mill

Faster material removal for Mills and Mill-Turn Machines where both the stock and tool are spinning to increasing surface speed. Machine part profiles resulting in less chip consideration and faster cycle times.

Multiaxis Machining

New Finishing strategies added to what was previously called Multiaxis Roughing. Now users can choose from roughing and finishing options with specific toolpaths for wall and floor finishing.

Multiblade

New advanced optimized operations for 5 Axis machining of impellers & blisks. Specific operations to rough and finish blades, hubs, and fillets.

Port Machining

New advanced optimized operations that are specific for CNC Port Machining, requiring minimal user input.

For more information on BobCAM For SOLIDWORKS V9, please visit www.bobcad.com For more information about the latest enhancements to BobCAM, visit https://bobcad.com/cad-cam-software-products/the-new-bobcam-v9-for-solidworks/ or call 877-262-2231

About BobCAD-CAM:
BobCAD-CAM has provided CAD-CAM CNC Software products to the global manufacturing industry for over 30 years. BobCAD-CAM software can be found to increase CNC productivity for many applications in aerospace, automotive, production manufacturing, mold making, general machining, woodworking as well as the medical manufacturing industry, consumer products, musical instruments, custom fabrication, defense industry and many others due to the products ability to automatically generate NC programming code for such a wide variety of CNC controllers. BobCAD-CAM software is also found in educational institutions throughout the world as well as independent hobby home use. Products include machining technology for 2, 3, 4 & 5 Axis CNC Milling, Routing, Waterjet, Plasma and Laser machines as well as 2 Axis CNC Lathe. BobCAD-CAM is modular allowing shops to start off at a reduced technology level and add technology as it is needed including an add-on, BobART, for artistic machining. Unique technology includes adaptive high-speed machining multiaxis milling and routing which is a first in the world of CAD-CAM software. BobCAD-CAM also provides a variety of quality training products that include regional and online training classes or private sessions tailored to specific applications. Professional certification and multi-tiered support solutions are available. Contact BobCAD-CAM directly for more information at 877-262-2231 or 727-442-3554