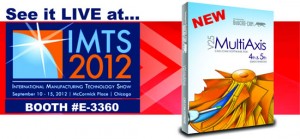 BobCAD-CAM invites you to come and see us at IMTS 2012 September 10-15, 2012 at McCormick Place "" Chicago, IL Booth #E-3360. The 29th edition of IMTS "" The International Manufacturing Technology Show 2012 is on track to rank among the top five largest IMTS events covering almost 1.2 million net square feet of exhibit space with more than 1,800 exhibiting companies. This year BobCAD-CAM will be demonstrating its latest CAD/CAM technology for CNC machining and part programming which includes CAD/CAM for:
– 2, 3, 4 and NEW 5 Axis Milling
– CNC Turning
– CNC Routing, WaterJet, Laser and Burning
– Artistic CAD/CAM
– Part Nesting & Sheet Optimizing
You will be able to see new roughing and finishing toolpaths recently added to the core CAD/CAM software and learn how they relate to reducing cycle times, producing quality finished parts and how easy it is to correctly incorporate CAD/CAM into your shops productivity so that you get the best possible ROI. Stay connected to what BobCAD-CAM is doing for manufacturing and meet the staff.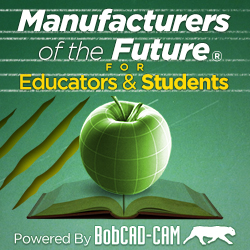 BobCAD-CAM will also be at the NIMS Student Skills Center to meet students and educators from all over the world and introduce them to the NEW Manufacturers of The Future program that fully supports manufacturing education. Exhibits inside the 2012 Student Skills Center will include hands-on activities, videos, demonstrations and simulations, as well as interactive, engaging activities resulting in small prizes for correct answers. As in 2008 and 2010, the Student Skills Center will feature a daily raffle for various exhibitor-provided prizes, career profiles, and a resume-drop box. If you are a student or teacher, don't miss this opportunity to learn more about the Manufacturers of The Future and special "Work Ready" programs that are designed to support your students and your schools! The NIMS Student Skills Center will be open Monday, September 10 "" Saturday, September 15 from 9am until 2pm. Attendees must check-in, attend the short Orientation Program, and visit the Skills Center exhibitors during these hours. Attendees may explore the rest of IMTS during the following hours: East & West Halls: 9am "" 5pm daily North & South Halls: 10am "" 6pm daily
We look forward to seeing you there!
BobCAD-CAM, Inc.