Pioneer CNC Software Provider announces the release of their New Version 30 CAD-CAM software offering new features and enhancements.


BobCAD-CAM, Inc. develops CAD-CAM CNC machining software for manufacturing businesses and they have just announced the release of the new version 30 edition of their software. Their modular software products improve workflow efficiency by streamlining the process of computer aided design and machining, which includes selecting tools, materials and machine cutting strategies which can be very time consuming. Their CAD-CAM creates the 2.5, 3, 4 and 5 axis machine toolpath and produces the numeric code that the machine requires to actually machine the part fast and error free. The new V30 system offers a list of enhancements that is long, with new features spanning both the CAD design aspect of the software as well as the CAM for toolpath generation and NC programming.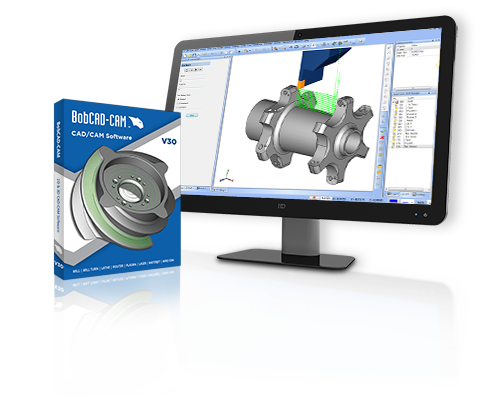 "For this years product release, we really wanted to go back and focus on our roots of CAD and the 2-3 axis milling. Utilizing all of the wonderful requests that come in from our users, we really feel that all of the great new features of the BobCAD-CAM V30 product will allow the users to save time, as well as provide the extra added control that is so desired by any CAD-CAM user. The most important thing about CAD-CAM is the speed at which you can get your parts drawn, and running on the machine with the latest technologies in material removal, which in turn leads to more profits for the users!" said Greg Myers, who oversees Software Development at BobCAD-CAM.
There needed to be an easier way in the software to edit and correct geometry selections when designing. Therefore, all selected geometry items are now displayed with list boxes that have controls to delete geometry, reverse chains and adjust the order of selected geometry. A detailed list of the many new CAD features can be found on bobcad.com, all developed to speed up design times for users. Next, BobCAD-CAM wanted to give users unsurpassed control over all aspects of the toolpath and have now added a toolpath editor, where users can modify individual entities, delete portions of the toolpath, edit feed-rates of individual toolpath entities and even convert regular toolpath into CAD geometry. BobCAD-CAM V30 also focuses on providing a better, more streamlined programming workflow for users in the CAM side of the system. This includes a newly enhanced set of selection tools for machining features. Now the user can select geometry and set the direction of cut, top of feature and the depth all in one dialog. Now users can make common adjustments to the cutting geometry without using a CAD tool.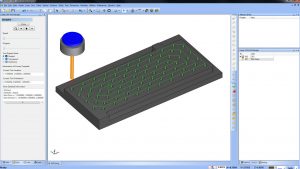 V30 provides improved drilling efficiency and reduced cycle times by giving you multiple drill sorting options. The new multi-depth chamfer cutting features allow the user to use any size chamfer tool to cut any size chamfer and there has been multiple enhancements to the 3 axis PRO toolpaths to provide more control over the tool that is used and provide smoother material entries and exits for machining. The software now gouge checks the holder against the "in-process" stock, as the tool is cutting with a new feature called, "Dynamic Holder Collision Avoidance". The Advanced Rough and Adaptive High Speed toolpaths also include enhanced lead-in options for the cutter.


The Lathe module has also been enhanced with a new toolpath trimming to stock and stock tracking feature. The newly enhanced trim to stock feature allows the user to trim away unwanted portions of the toolpath and stock tracking now automatically updates the operation stock. These are just a few of the new features and enhancements available in the latest V30 modular CAD-CAM product.
"The ultimate goal of V30 is to give our customers much faster toolpath programming capabilities and reduced cycle times on every job" added Myers.
In addition, BobCAD-CAM has provided CAD-CAM Software products to the global manufacturing industry for over 30 years. BobCAD-CAM software can be found to increase CNC productivity for many applications including educational and independent hobby, home use. Products include machining technology for 2.5, 3, 4 & 5 axis CNC milling, routing, waterjet, plasma and laser machines as well as 2 axis CNC lathe. BobCAD-CAM also provides a variety of quality training products that include regional and online training classes or private sessions tailored to specific applications. Professional certification can be acquired as well as multi-tiered technical support solutions to their service customers.