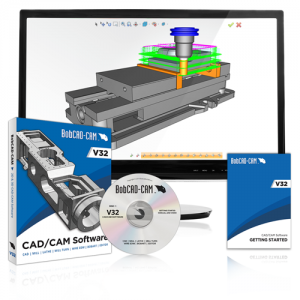 Clearwater, FL — www.bobcad.com — We here at BobCAD-CAM, along with our International Dealer Network, are happy to announce the latest addition to our CAD-CAM software family, Version 32. BobCAD-CAM V32 provides manufacturers around the globe industry-leading technology, boasting 39 upgrades and enhancements from the previous version. With BobCAD-CAM V32, we put a lot of focus into allowing the user to customize the application to work for their needs.

"We are excited to deliver the next generation of BobCAD-CAM software to our customers," says Greg Myers, BobCAD's Director of Software Development. "You will see a lot of new options, allowing the users to define their own defaults and create their own machining strategies. Customers will have access to various templates that can be created in order to speed up their programming time, reducing the amount of time you do repetitive steps inside the software. We know every customer has their own unique needs and the main focus of all these improvements was to allow complete customization to make the software your own!"

V32 is designed for machinists all around the world and is offered in the following languages:
English
Spanish
German
Turkish
Japanese
For more information & additional material about the latest enhancements to BobCAD-CAM V32, visit our WHAT'S NEW page.

More functionality than ever before! Download and try the new V32 NOW.

About BobCAD-CAM
Since 1985, BobCAD-CAM has been dedicated to providing manufacturers just like you with powerful and easy to use CNC programming CAD-CAM software. Our purpose is helping you effectively automate the machining process. We offer CNC programming solutions for Mill, Mill Turn, Lathe, Router, Plasma, Laser, Waterjet, and Wire EDM machines. BobCAD-CAM integrates CAD and CAM functionality in a single interface for a seamless transition from the design process to toolpath programming, simulation, and g-code processing. This design makes it easier for you to go from concept to finished product in less time.

# # #