Clearwater, Florida, January 23, 2012 "" Computer Aided Design & Manufacturing software BobCAD-CAM, Inc achieved the fully integrated Gold Partner stamp of approval by SolidWorks in 2011 and will be demonstrating its capabilities to thousands of SolidWorks customers at this years annual SolidWorks World. BobCAM for SolidWorks is focused on optimizing core design functions so users can work smarter and faster to transform new ideas into tangible business results through CNC machining. This is exactly why the BobCAM for SolidWorks gold partner CAM add-in is a critical piece to the overall efficiency in manufacturing as it streamlines and allows the user to maximize productivity. "Integration between key product design applications can shave precious time off of the development process and increase productivity," said Nick Iwaskow, SolidWorks Manager, Alliances. "Integrating BobCAM directly within the SolidWorks environment helps designers and engineers improve designs and deliver the products their customers are looking for."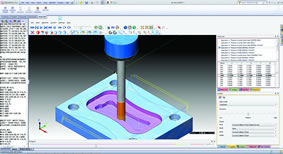 SolidWorks users who machine parts can now take advantage of new milling toolpaths and wizards that remove the guesswork by stepping you through the machining process. A new CNC Lathe module is now available as well offering features for programming 2 Axis lathe, creating toolpath and the G-Code program right within SolidWorks. Being that the new Lathe module has been added, this allows the user to select their smart models as their geometry without the need for wireframe profiles for roughing. This works just like the BobCAM Mill module. For example, if the operator is using a lathe groove feature, the system will detect the grooves in the part automatically and if they are using an internal roughing feature, the system will detect the internal areas, etc. Thus, making the selection process simple in the creation of toolpath.
The new release also addresses milling by adding the ability to create multiple setups. This means the operator can now work on all sides of the part within one single part file. These are just a few of the software features that have been added which amounts to faster, smarter and easier production and bringing new innovations into reality. The BobCAM software will be demonstrated at booth #102 at SolidWorks World 2012 in San Diego California February 12-15 2012.