May 11, 2012 – BobCAD-CAM and their new Manufacturers of The Future program is hard at work making sure that students in manufacturing are sponsored by granting them CAD/CAM technology for them and for their schools throughout America and abroad. One of the latest is the First Robotics Team 4123. Team FRC 4123, the BOM Bots, is a rookie team from Bellflower, CA. St. John Bosco, St. Joseph"™s, and Valley Christian have all collaborated to form the BOM Bots. The team is working with mentors from Boeing in Long Beach, CA to create the team"™s first robot, The Brave Crusading Jester (TBCJ). The students are all excited to be competing in this year"™s Rebound Rumble hosted by FIRST. This year, they brought all of their talents and knowledge with them to make a mark in this year"™s competition.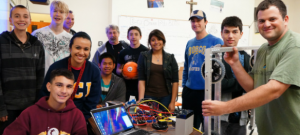 When Annette Lane acquired a SMX knee mill from Southwestern Industries, she needed software to tool path the Auto Desk Inventors files. BobCAD-CAM answered the call and has sponsored her team with software and training to program these parts. "BobCAD CAM understands and fully supports the First Robotics movement!" said Kevin Hughes who is the Educational Manager at BobCAD-CAM.
First Robotics Mission:
Our mission is to inspire young people to be science and technology leaders, by engaging them in exciting mentor-based programs that build science, engineering and technology skills, that inspire innovation, and that foster well-rounded life capabilities including self-confidence, communication, and leadership.
Learn More about First: http://www.usfirst.org/roboticsprograms/frc