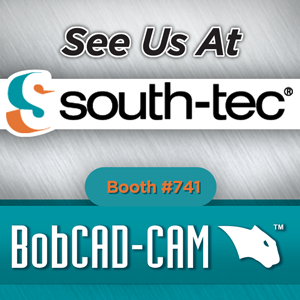 SOUTH-TEC attendees will be among some of the first to see the new BobCAD-CAM Version 28 and Mill Turn CAD-CAM software at this year's trade show circuit.
Developers and Technical Advisors from BobCAD-CAM will be on hand at the company's booth (#741) to provide one-on-one demonstrations of the new software and offer detailed walkthroughs of new features. There will also be daily group presentations and Q&A sessions at the booth.
"We're looking forward to showing the new Version 28 and Mill Turn software at SOUTH-TEC," said Sean Owen, COO of BobCAD-CAM. "We've continued to work closely with our clients to make some major upgrades and additions to the core software. We've also debuted our completely new software module for CNC mill turn machines. We've got a lot of new and exciting things happening this year and it's great to be able to bring all of this to the SOUTH-TEC crowd."
New CAD-CAM Software for CNC Programming
The latest CAD-CAM software is one of the company's most significant releases in company history. BobCAD-CAM added a wide variety of improvements and additions to the new Version 28 software that allow for quicker and easier part designing and CNC programming. The new features include:
Drilling Multiple Depths in a Single Feature
New Drilling Options (Standard Drilling, Multiaxis Drilling, Cross Drilling)
Advanced Retract Options
Use Cylindrical Surfaces to Automatically Set Drilling Parameters
Ability to Use Custom Tool Shapes
Perpendicular Stepover for Advanced Planar
Round Corners for Advanced Planar
Side & Bottom Allowance
Wrapped Toolpath Improvements
Trim to Stock for 4 Axis Rotary
Snap Increments for Dynamic Drawing
Workpiece Selection for Simulation
Set Default Stock Transparency
New Simulation Interface
Additionally, the release offers all-new Mill Turn CAD-CAM software that supports CNC mill turn / multitasking machines. The Mill Turn module allows for programming of multiple turrets, multiple spindles, steady rests and supports live C axis milling, Y axis milling, and B axis (5 axis) milling heads. With the addition of Mill Turn capabilities, the company's software now works with nearly every type and configuration of CNC machine in use today.
Demonstrations will cover all of the new functionality in addition to the core features that have established BobCAD-CAM as one of the easiest and most efficient CAD-CAM software on the market today, including:
High Speed Adaptive Machining
Wizard Driven Interface
Advanced Machine Simulations
Surfaced Based Toolpaths
Dynamic Drawing
And More
SOUTH-TEC begins Tuesday, October 27, 2015 and runs through Thursday, October 29. Full demonstrations are available at the BobCAD-CAM booth #741 at the Charlotte Convention Center. One-on-one demonstrations are available for walk-ups or they can be pre-scheduled by calling 877-262-2231.
Attend SOUTH-TEC as our guest!
Those interested in attending SOUTH-TEC can receive free admission by registering at Southteconline.com using promotion code 10731497.


Attendee Exclusive Pricing
SOUTH-TEC attendees will have access to show exclusive CAD-CAM product specials – available through the end of the show.
BobCAD-CAM Version 28 CNC Programming Software
BobCAD-CAM Version 28 software and new Mill Turn module demos are available for download at BobCAD.com.


Here are some related CAD-CAM articles you may be interested in:
Summary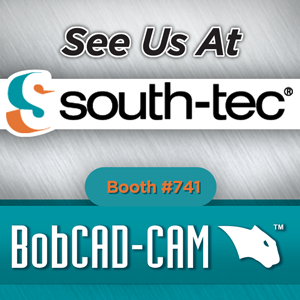 Article Name
BobCAD-CAM to Demo New CNC Programming Software at SOUTH-TEC
Description
SOUTH-TEC attendees will be among some of the first to see the new BobCAD-CAM Version 28 and Mill Turn CAD-CAM software at this year's trade show circuit.
Author
Nick Erickson | BobCAD-CAM