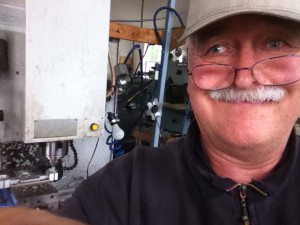 From 1989 to 2002, Lutz Kottwitz was a FoxPro developer, designing and programming MRPII for a German manufacturer of torsional vibration dampers for diesel engines. He is now a dealer and service facility for Ural Russian Sidecar Motorcycles, as well as being responsible for CNC Machining at his own shop, Kottwitz Werke, and the Ural motorcycle factory in Irbit, Russia. Using his knowledge of FoxPro, Kottwitz built his own database system to create and post-process G-code to his CNC machines.
In December of 2011, Kottwitz switched to BobCAD-CAM software for his CNC machining needs. He was able to easily understand and employ the software after taking advantage of BobCAD's video tutorials and support.
Kottwitz stated that since he brought BobCAD software into his shop, his business has changed and work is "a lot easier."
"I do things different than before, always with BobCAD's capabilities in mind."
Kottwitz has used BobCAD-CAM software on several different aspects of his motorcycles, from creating parts to etching designs on inspection sticker plates. His main project in Russia at the moment is machining the crank case on a four axis CNC machining center.
He recently made his way to Redmond, WA, location of the headquarters of the US/Canada division of Ural, to do a presentation regarding CNC at the Ural factory in Irbit.
For more information on BobCAD-CAM software, contact them directly at 877-262-2231 or download a free trial version of V25 2 & 3 Axis CNC Software at www.bobcad.com.