One of the most common misconceptions about CAD-CAM software is that it's complicated, difficult to learn and not something just anyone can pick up. While it's true that CNC programming can be complex, there have been amazing advances in CAD-CAM software that helps to make programming difficult parts easier.
The latest BobCAD-CAM Express CAD-CAM software is a truly powerful piece of CNC programming technology that removes the guesswork from machining. BobCAD-CAM's Express package is the company's standard CAD-CAM software which includes everything needed to program your 2.5 and 3 axis parts including CAD, CAM, simulation, and g-code post processors.
In order to keep things easy, BobCAD-CAM developed machining wizards. These wizard-driven guides provide a straightforward way of turning geometry into toolpaths, and g-code so you can turn out more parts in less time and with less effort. The Express software is a powerful solution capable of handling a wide array of jobs on CNC mills, routers, plasma, laser, and waterjet.
What exactly makes BobCAD-CAM Express such a great choice for CNC programming? Let's take a closer look.
2D & 3D Express CAD-CAM
CNC shops will oftentimes have various simple jobs that require programming with a CAM system so that toolpaths are properly configured and g-code programs are created with ideal speeds, feeds, m-codes, cutter compensations, etc. Once the CAM job is started in the Express CAD-CAM software, wizard-driven guides are available to help you create the appropriate stock setup and work offsets. Then, 2 & 3 axis toolpaths can be selected to set up machining operations for roughing and finishing.
Express CAD Features Streamline Design
Many times, shops receive part files from clients ready for CAM programming. However, if the part arrives as a print, the machinist can easily create a 3D model using CAD included with the Express software package. The CAD software is a complete solid and surface-modeling product with "Hybrid" modeling capabilities as it can work with wireframes, surfaces, and solids.
The CAD design shape library is a great tool to use for creating shapes that can be extruded and converted to solids. The BobCAD-CAM Express software provides more than 160 design and geometry editing features and capabilities. Complex parts can easily be created and updated within the CAD design tree. Thanks to the associative aspects of the solid history tree, stages of the solid model can be edited and the entire model updated with the rebuild feature. This makes design changes much easier.
Standard Express CAM Features Include:
The Express CAD-CAM software utilizes wizard-driven guides to eliminate the guesswork from CAM programming and capture maximum efficiency. The versatility of the software's posting engine allows it to be used for 2.5 and 3 axis CNC milling in addition to routing, laser, plasma, burning, and waterjet.
Once the CAD model is ready for toolpaths, the CAM software's CAM Tree Manager is used to set up machining operations for all of the CNC tasks.
CAM machining and programming features include: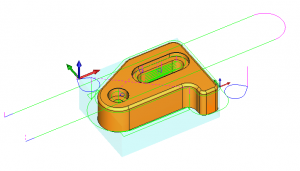 2.5 Axis Milling
Definition Boundary Machining
Job Setup Wizard
Pocketing with Island Avoidance
Profiling – Open & Closed
Shapes
Automatic Profile Wizard Including Variable, Linear, and Radial Approach and Depart
Automatic Cutter Compensation
Engraving with Solid Fonts
Bolthole Patterns – Grid & Circular
2D Machine Wizards
Multi-Tool Hole Drilling
2.5 Axis Toolpaths
Facing
Profiling
Pocketing
Plunge Roughing
Thread
Chamfer Milling
3 Axis Toolpath
3 Axis Slice Planar


The Express CAD-CAM software provides easy to work with machine toolpath creation features that cover the vast majority of common CNC jobs that many shops take on. These include:
Profile
Boundary Extraction Utilities for Toolpath Containment
Offset Pocketing
Profile Side Roughing
Slot Milling
Counter Boring, Drilling, Tapping and Many Other Operations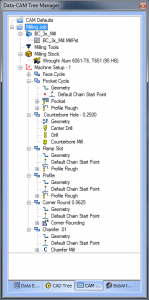 CAM Tree Manager
The CAM Tree Manager of the software is where all CAM machining features are located. This allows the programmer to quickly organize operations and toolpaths. At any time, machining operations and toolpath parameters can be modified.
The software provides a machining order feature that allows you to view and change the machining order of operations and re-orient operations. At any time, the material, tools, post processor or any aspect of the machining operations can be edited and machine toolpath regenerated. This can be a very useful function when minor changes to a CAD model are needed after toolpaths have been created.
Machining Wizard
When creating machining features, the Machining Wizard is used to define the parameters for the feature and all operations contained in the feature such as 2 axis or 3 axis features of the Express software. One of the main reasons for using the Machining Wizard is to access your tool database, which includes the tool crib and holder library.
Material Library – Feeds & Speeds        
By default, the software automatically calculates feeds and speeds based on the values defined by the material database. However, materials in the database can be modified to make necessary adjustments to feeds and speeds or can be updated with new material types, which allows for custom-set feeds and speeds.
CAM Programming Simulation Eliminates Costly Mistakes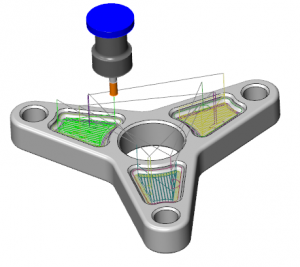 One of the most expensive things for a CNC shop can be the cost of scrapped parts due to tool gouges or collisions. These types of programming errors are completely avoidable when you have a CAD-CAM system that includes simulation. CAM simulation allows the programmer/operator to visually inspect toolpath operations that can include fixtures, stock, tools, and tool holders. Simulation also provides crucial cycle time estimations and information on machined part deviations. All of this information is vital to efficient, error free machining. Every Express CAD-CAM software package from BobCAD-CAM comes standard with simulation so you can be sure your jobs programmed accurately.
Every CNC business needs a CAD-CAM system for 2.5 & 3 axis part programming in order to efficiently streamline the process of machining parts. Implementation of a CAD-CAM product needn't be a difficult process as long as you work with a product that makes it easy to learn and straightforward to use.
Whether you're new to CNC machining, new to CAD-CAM software, or you've been using a different CAD/CAM for years – BobCAD-CAM Express is an intuitive software with a short learning curve and powerful enough to take on complex jobs.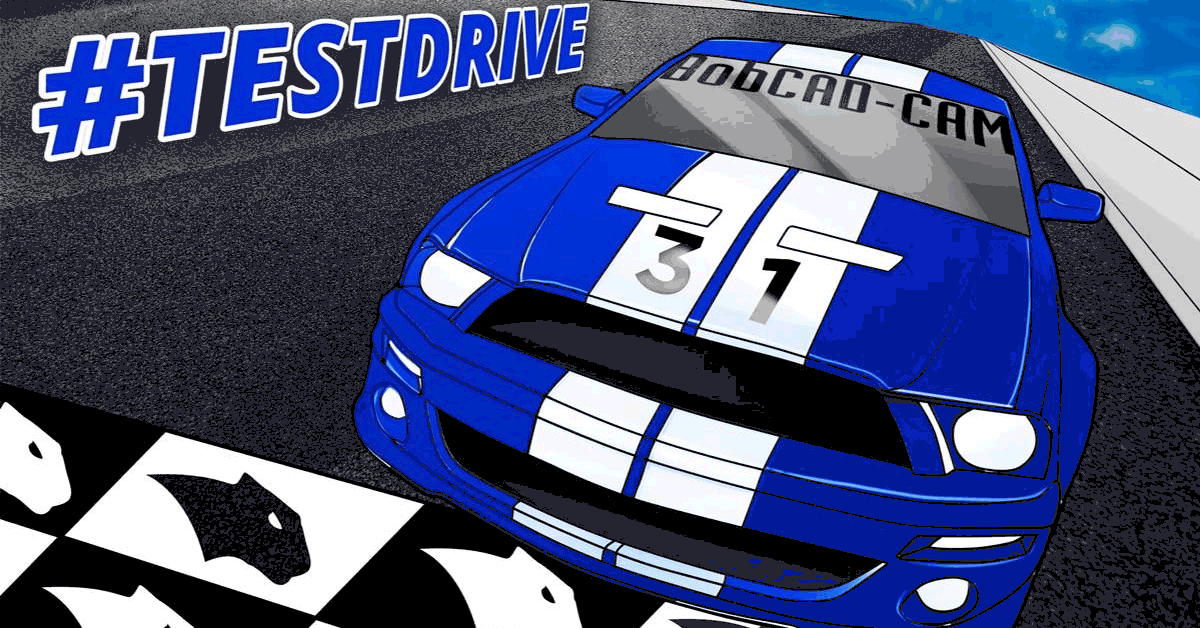 Start your Test Drive.
Have questions? Call us at 877-838-1275.

You're one click away from subscribing to BobCAD's YouTube channel. Click the link below for tips, how-tos and much more!

Summary
Article Name
CAD-CAM Express Software Makes CNC Programming Easy
Description
BobCAD-CAM's Express CAD-CAM software package redefines ease of use CNC programming for 2.5 and 3 axis machining jobs. Read more to find out how.