Manufacturing technology is used in many different sectors that include art and sculpting. One artist creates amazing sculptures with the latest in CAM software and opens the door to endless artistic ability for himself. Here is his unique story.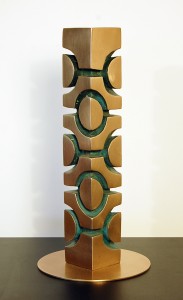 Nathaniel Hesse is a professional sculptor located in Santa Fe, New Mexico that has endless design and creative possibilities through the use of CAD-CAM technology. "I primarily work for myself with occasional commissions," says Nathaniel. "I use BobCAD-CAM software with an older IBM PC connected to a Torchmate 2'x2′, using a Thermal Dynamics 82 amp plasma torch. I built a special table that is big enough to hold a 2'x4′ sheet of metal."
He has a Torchmate on guide rails so he can slide it forward or back to help position for cutting. Mostly, he is working in bronze sheet or stainless steel, but the steel gets cut too. The parts or shapes are drawn in BobCAD-CAM using many of the CAD design features that are available within the software and then he exports them as DXF files. "It works very well and produces parts that I could never cut freehand," he says. "I grew up when gas torch and stick welding were the primary tools that were used for metal fabrication. Since the 90s though, the plasma cutting torch and MIG/TIG welders have become more affordable and that has helped me to do larger sculptures with more precision than ever before."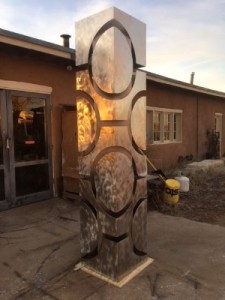 "To be able to have that control on smaller work was a real problem and that's where BobCAD-CAM software and the Torchmate setup is also such a game changer," he adds.
"The project that has taken me the furthest with BobCAD-CAM has been a Totem sculpture that is 12″x2″x2″ made out of bronze. The piece started out using basic white styrofoam that I routed out a simple circle pattern across the sheet. Then I cut the foam into four equal parts and sort of folded it back on itself to create the column. I then proceeded with a tedious process of covering the foam with brown casting wax, sculpted the edges and surface, and then had it cast into bronze. The piece is solid and weighs nearly 20 lbs," he says.
This totem sculpture led to his most recent piece, an Obelisk – 96″x20″x20″ out of 3/32 stainless steel. He first drew it up in BobCAD-CAM, which was a full eight foot version resembling the first totem, and then he isolated the parts he needed to cut. Cutting the parts for a piece like this was really the easiest part of the job. It took three plus months of welding and grinding and fine disc sanding to put this piece together. The precision of every part allowed him to connect the edges with great accuracy.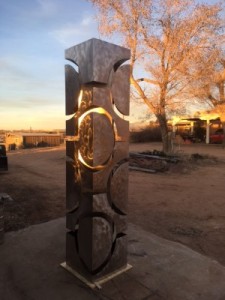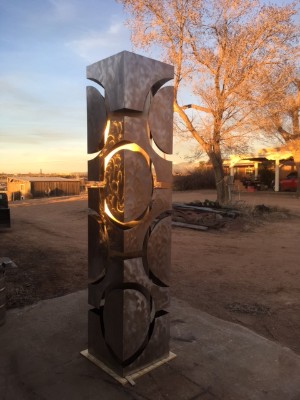 "I would not have been able to do this in the freehand torch method nor would I even want to try," he says. "BobCAD-CAM software had a certain learning curve for me because I was self taught on how to use the software through some of the tutorials and through my own hunt and peck method. I generally learned what I needed for each new project as I went along and that has led to some form of proficiency. BobCAD-CAM does have a very good and extensive tutorial online which were very helpful when I got stuck," he added.
He says, "What is great about the system for me now is the ease at which I can draw what I need in a short amount of time, then set up the rig and go. Making parts that are square and with smooth curves, no slag as such and in half the time, is awesome," he says and continues, "I have used this setup for many years and each new project comes with objectives and limitations. The BobCAD-CAM and Torchmate setup has led to creative thinking and solutions."


Nathaniel Hesse | Owner – Sculptor Ranch | Santa Fe, NM
All the work pictured was fabricated using BobCAD-CAM software. All pieces are bronze/stainless except for the Obelisk, which is all stainless steel.
BobCAD-CAM has provided CAD-CAM CNC software products to the global manufacturing industry for over 30 years. BobCAD-CAM software can be found to increase CNC productivity for many applications including educational and independent hobby home use. Products include machining technology for CNC mill, mill turn, lathe, router, laser, plasma, waterjet and wire EDM. BobCAD-CAM also provides a variety of quality training products that include regional and online training classes or private sessions tailored to specific applications. Professional certification can be acquired as well as multi-tiered technical support solutions to their service customers.
For more information you can contact BobCAD-CAM at 877-262-2231 or 727-442-3554.
Download a Free BobCAD-CAM Demo HERE