March 19, 2014 – CAD/CAM software development continues to provide an edge to CNC businesses throughout Manufacturing in terms of helping machine shops improve CNC programming workflow and automate the CNC machining. CAD/CAM directly impacts the delivery of manufactured parts to market more efficiently and profitably than ever before.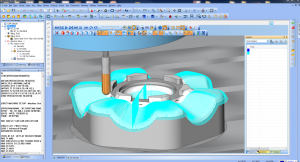 The result of using CAD/CAM is that machinists can create simple or complex programs faster, smarter, easier and for less moving forward. 2014 is no different than any other year when it comes to bringing products to market as efficiently as possible in CNC manufacturing productivity. CAD/CAM positively affects multiple levels of manufacturing from improving programming workflow through the development of CAM Wizards to streamline CAM functionality, reducing CNC cycle times through allowing operators to use new High Speed Machining technology and even the elimination of waste at the machine through providing powerful new toolpath simulation capabilities. These are just a few of the ways CAD/CAM has positively impacted CNC manufacturing. This CNC machine automation technology will continue to play a large manufacturing roll throughout 2014 and beyond in how products are designed for manufacturing and then programmed in CAM systems that create NC programs that are more and more efficient than ever before.
Popular CAD/CAM functionality for CNC programming include:
– Hole Making (Drilling, Tapping & Boring)
– Pocketing
– Profiling
– Surfacing & Contouring
– Engraving
While these are not all of the machining features that CAD/CAM offer, these are some of the most popular. Within these machining operations you will find the stages of material removal such as Roughing & Finishing. Roughing is typically where the largest amount of material is removed by a larger cutting tool axially down to a level where a Finishing toolpath can then be applied to clean up the rest of the material and produce a "finished" part. REST roughing and finishing has been developed into CNC Software as an operation that comes in behind a roughing or finishing cycle to clean up areas of the part where the larger cutting tool could not go. Basically, removing the "rest" of the material left over from the prior operation. This can be used on both roughing and finishing at the discretion of the machinist depending on the complexity of the part being machined.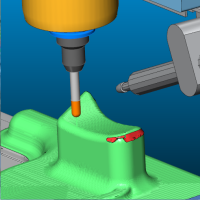 Many CAM systems now provide built in simulation technology to virtually eliminate costly mistakes at the machine such as BobCAD-CAM. This is done by allowing the machinist to watch a preview of the cutting taking place while using the exact tools, work holding, cutting feeds and speeds and much more. The more advanced simulation technology offers the ability for the operator to simulate the program while using their machines kinematics to see their machine in action before a program is ever actually sent to the machine tool. As CAD/CAM software is now more available than ever before in terms of costs, simulation technology has also become more accessible due to there being more options and the fact that these simulation products are now readily available within CAD/CAM software with affordable options that can be very valuable for CNC shops.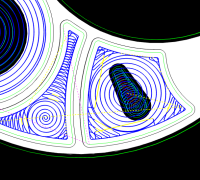 High Speed Machining toolpath is also called "Trochoidal" toolpath and is more of a circular motion than the traditional offset style of toolpath. High Speed toolpath allows the cutting tool to take deeper cuts which in a constant engagement with the material. The machining speeds and feeds can be increased by as much as 50 percent with proven results that reduce machine cycle times by as much as 50 percent. CAD/CAM software is necessary to improving CNC machine productivity as it allows you to speed up the amount of time it takes to program complicated parts as well. Machine Wizards are an excellent example of this. By using a Wizard, the operator/programmer is guided through the process of creating toolpath, selecting tools, choosing toolpath styles, adjusting the type of toolpath lead-ins and lead-outs that are needed and a lot more. Wizards remove the guesswork for new CAM Software operators as well because there is less of a steep learning curve.
Many machine shops can be found to have more than one CAD/CAM product on-board. This is partly to due with the fluctuation in CAD/CAM development over the years as well as the fact that CAM programmers tend to stick with what they are most familiar with while having to purchase additional CAM products due to lack of functionality etc. Whatever the case may be, you will also hear that the more tools you have in the toolbox, the better off you will be.
When evaluating CAD/CAM for your shop, be sure to try a Free BobCAD-CAM Software Demo HERE.
Summary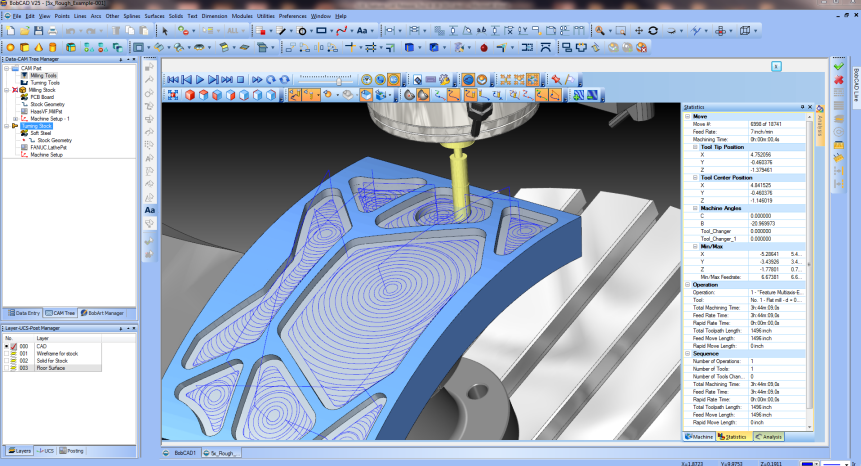 Article Name
CAD CAM Software Improves CNC Machine Productivity in 2014
Description
CAD/CAM Software provides major benefits in CNC Machining and Metalworking in 2014. This article outlines a few of these benefits.
Author