Turning an idea into a physical reality can sometimes be a challenge. Yet, in manufacturing and CNC machining, CAM software unlocks the door for limitless possibilities. BobCAD-CAM has helped Michael Gencarelli create amazing parts that started as an idea. Here is his story.


Success against the odds – that's Michael Gencarelli. Family responsibilities nearly prevented him from finishing high school. After accepting a sponsorship to the General Motors School of Product Service, Michael held engineering and administrative positions in a number of manufacturing facilities.
It was during his climb up the ladder that nGeneYes was born. The company began with a reverse engineering project to develop a proprietary piece of equipment made for Fuji Machine Manufacturing. From there, the only way was up.
What's Michael Gencarelli's secret for success? "Always put the customer first," he says, "by understanding the specific industry challenges, by addressing specific expectations and needs and by working with each customer on the best solution."
According to its president, nGeneYes leads the pack with a thorough understanding of cutting edge technology and a systems integration approach to software development. The company is fueled by teamwork, principles of leadership, management, and respect for others. That respect extends to customers. One moment of unexpected pride came when a CFO, being filmed for a video about his company, quite candidly and unexpectedly stated that he had never worked with anyone as honorable and trustworthy as Michael Gencarelli. Integrity may seem like an old-fashioned notion to some, but for Michael it's an intrinsic part of the way he does business.
Michael originally got his start in machine shop classes in high school. Now, he has over 14 years of experience. He founded and ran 3 software companies, creating one-off unique solutions for some of the world's largest corporations. These were multi-year, multi-million dollar projects. Because of his experience, he gained a wealth of knowledge regarding CAD and CAM products, leading him directly to BobCAD-CAM.
"I know good software," he says. "BobCAD-CAM is good software."
He needed a wide range of machining capabilities that had options allowing him to customize and set up machining operations to meet his specific requirements. The models that needed to be machined have a lot of complex surfaces. "The endless amount of options provided for toolpathing this very complex and very detailed shape solved a key challenge that we had with the parts," says Gencarelli.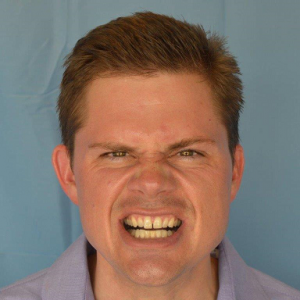 "Another challenge we were able to overcome with BobCAD-CAM was being able to simulate the job, at high speed. This was important because there were many parts that made up these technical sculptures that we had to machine, most with 20+ hours of machining time per part. Some even ran 50+ hours," he continued.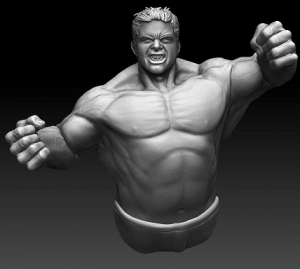 BobCAD-CAM features that made a difference for them right away was being able to toolpath, simulate and evaluate the finish level and detail of the finished product, especially where it would be seamed together with other parts. "Then we could just make any necessary adjustments and repeat," says Gencarelli. "All without running my machines or wasting precious raw materials. With my previous setup, I would have had to test run parts, scrap them or spend countless hours modifying them so I would not have to scrap them, losing the machine time and materials," he added.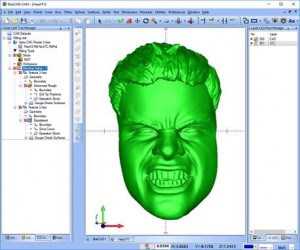 "I was unable to toolpath The Hulk Project with anything but the advanced roughing toolpaths. Some of the simpler toolpaths would have been able to fabricate the parts, but not at the quality level, or even more importantly the cutting time. Regular toolpath time estimates were off the charts, so the BobCAD-CAM advanced roughing was very important for us," he says.
They had some previous experience using other CAD systems, but found the BobCAD-CAM software quick and easy to learn. "I have to say when I first sat down in front of a BobCAD-CAM workstation, I was a little lost, but once I had some training and watched a few of the BobCAD AfterDark YouTube videos, I was off and running," he says when asked how easy it was to use. "To summarize this unique project and one-of-a-kind machine, the BobCAD-CAM Training Staff and Technical Support Team were amazing. There wasn't a problem they couldn't solve," he adds.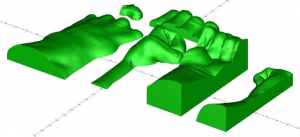 He continued, "I want to say a little or maybe a lot about BobCAD-CAM's post processing capabilities, which is where the rubber meets the road. Originally, BobCAD supplied me with a post processor for my machine, which again is one-off, and then I worked with Alan Aguilar over the phone from the support team to get me started. Then on my own, I have created an advanced intelligent plasma post processor from the software directly to my Mach3 control."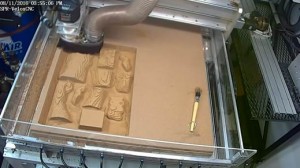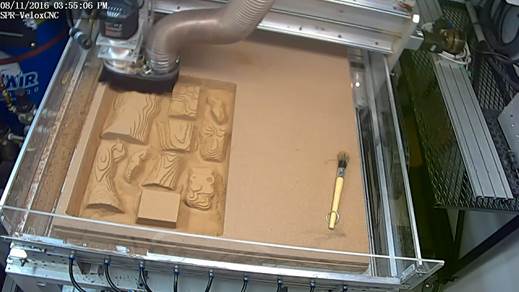 Michael Gencarelli | Owner – My Garage Shop | mygarageshop.com
BobCAD-CAM has provided CAD-CAM CNC software products to the global manufacturing industry for over 30 years. BobCAD-CAM software can be found to increase CNC productivity for many applications including educational and independent hobby home use. Products include machining technology for CNC mill, mill turn, lathe, router, laser, plasma, waterjet and wire EDM. BobCAD-CAM also provides a variety of quality training products that include regional and online training classes or private sessions tailored to specific applications. Professional certification can be acquired as well as multi-tiered technical support solutions to their service customers.
For more information you can contact BobCAD-CAM at 877-262-2231 or 727-442-3554.
Download a Free BobCAD-CAM Demo HERE