The F1 Technology Challenge is sponsored by all 12 Formula One teams, and, according to Formula One in Schools website, is the largest STEM (Science, Technology, Engineering Mathematics) competition in the world and prepares students for their career.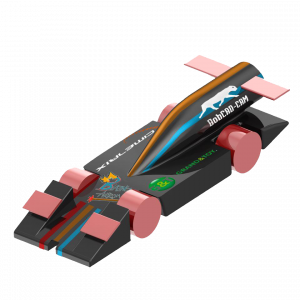 Canadian F1 In Schools Team BobCAD Blazing Arrow receives top sponsorship from BobCAD-CAM, Inc. as they prepare for the World Finals on October 29, 2012 in Abu Dhabi. With the clock ticking and a journey half way around the world just in front of them, four high school students with a single goal prepare for the ultimate challenge and a chance to win the esteemed F1 World Championship trophy.
The collaborative team is made up of students from SATEC at W.A. Porter C.I. and Woburn C.I. The two schools combine impressive marketing and management skills with visionary design and engineering to create a power dynamic they feel confident will put them above the competition.
During the Canadian National Finals, Blazing Arrow broke the Canadian record, winning them the 2012 Canadian F1 in Schools Championship and the Fastest Car Award.The team also took home the Best Collaboration Team Award and the Best Marketing Award.
Eeshmam Munir will lead Team BobCAD Blazing Arrow against other national championship teams from countries such as Bahrain, Czech Republic, Ireland, Jordan, and the United States. Their award winning car will have fierce competition at the World Finals, with over 250 students representing over 30 different countries attending the three day challenge.
Munir makes one request in his team introduction video, "The team is now getting prepared for the upcoming World Finals and we ask all of you to support us in this competition."
The F1 sponsorship that BobCAD-CAM provided aligns with their ongoing Manufacturers of The Future campaign they created to support education by sponsoring schools and students with their computer aided design and machining software. The F1 car was designed and machined with their CAD/CAM program for CNC machining. If you are a school or student or would like to inquire about this educational program, contact BobCAD-CAM directly at 866-408-3226 or 727-442-3554.