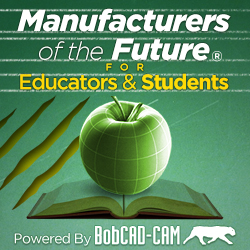 April 3, 2012 – Central Nine is a public school offering a wide variety of programs designed to provide education and training that meets today"™s business, industry and college requirements. Central Nine programs stress academic achievement and technical skill attainment since each of these are invaluable.
Central Nine Career Center is affiliated with nine area high schools. The 100,000 square foot campus that sits on 65 acres is comprised of seven buildings for classrooms, laboratories, offices and other instruction resource facilities. The school can accommodate approximately 750 students in each of our 4 sessions per day.
Precision Machine Technology includes a wide range of classroom and laboratory experiences that develop skills and knowledge in the shaping of metal parts. Emphasis is placed on basic precision machining operations including the use of lathes, drill presses, and grinders, in addition to mill and bench work. Instruction includes the use and care of other precision tools such as micrometers, indicators, combination squares, scales, and calipers. Advanced instruction should include preparation in the use of Computer Numerically Controlled (CNC) machines that reflect current industry practices. Application of mathematical skills and blue print reading is part of the daily experience. Technical reading and writing skills will also be emphasized.
Program Topics:
Blueprint Reading
Precision Measurement and Inspection
Setup and operation of engine lathes
Trigonometry & Geometry (entry level)
Setup and operation of milling machines
Setup and operation of surface grinders
Programming and operation of CNC machine
Career Opportunities:
General Machinist
CNC Machine Operator
Quality Control and Inspection
Tool and Die
Engineering
Advanced Manufacturing
CNC Programmer
http://www.central9.k12.in.us/index.html
"This is why we support schools out there. Tomorrows future depends on what we do here and now in education and our Manufacturers of The Future program fully supports schools that prepare students for real world success," said Kevin Hughes, BobCAD-CAM Educational Director. Mr. Hughes recently received a letter from the school for the recent BobCAD-CAM sponsorship: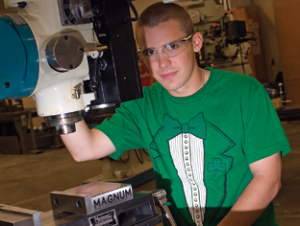 "Thank you and your company for contributing prizes for the Vincennes University Statewide Machining Contest. Central Nine Career Center students have attended the V.U. contest for 18 plus years. The many tools and other donations won by Central Nine Students have been used in learning the trade while in school. Also for many years after wards, while working in the manufacturing facilities to make a living. Thank You!"
Central Nine Career Center Precision Machining Technology Students.
To learn more about the BobCAD-CAM Manufacturers of The Future campaign contact Kevin Hughes at 877-262-2231.