CNC Software is a critical technology ingredient in the success of CNC manufacturing throughout the world. It provides the ability to turn an idea into reality on every level from simple parts to complex mold making. This is the story of Decker Design Engineering and how CNC programming software has helped them increase productivity and continue to provide their customers with parts faster and easier.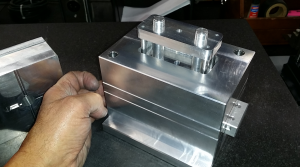 Decker Design Engineering, LLC designs and builds prototype injection molds, as well as first-year production molds primarily for, but not limited to, the Morgan Press line of injection molding machines. Their expertise lies in the fact that they have the ability to take a potential product from conceptual development through CAD engineering, prototyping, and pre-production aluminum tooling, and have met with some of the most challenging as well as simple designs.
On the shop floor, they have a Bridgeport Series 1 mill that was retrofitted for 3-axis CNC in January of 2016 and they run Mach 4 software using a Mach Motion controller. With so much production going on, they needed a solution that was affordable but that would support their production demands in functionality for both design and CNC programming. It needed to be easy enough to use as well. This is when they found BobCAD-CAM, which continues to fit the bill and supply them with the features they need when they need them.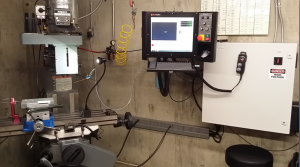 "I design injection molds, almost entirely of 7075 aluminum, and I use BobCAD-CAM for machining the cores and cavities, as well as for the various support plates, rails, etc", says David Decker who established Decker Design Engineering in Established in 1978. Decker Design Engineering started out developing new products for customers such as Teledyne Analytical Instruments, Sohnen Enterprises, American Pharmaseal Labs, and Impco Technologies, as well as a number of smaller companies. David adds, "I build quite a few molds for ASTM specimens, used in industrial labs and university labs for testing strength of materials (resin). Historically, I built the mold and frames, but farmed out the CNC portion (normally the cores and cavities). In late 2015, I decided to venture into the CNC arena, because the individual I used for the CNC work had taken ill. He passed away in 2016, so I had to catch up fast; and being new to CNC and the CAM environment, I had a lot to learn in a short period of time. That's when I purchased BobCAD-CAM." He continues, "The main issue with any mold building is time. It simply took too much time to build these molds. Also, I had no personal experience with CNC, since I was able to outsource that aspect of a project. I wanted to explore using CNC, so I took the leap and haven't looked back." BobCAD-CAM helped David overcome these challenges.
"Using BobCAD helped me overcome the anxiety I had of CNC'ing the molds myself, because it was relatively easy to learn compared to some of the other CAD-CAM products out there. Having used TurboCAD for a number of years, the transition to BobCAD-CAM was not without those little 'bumps', but I'll have to say that the BobCAD-CAM support team is terrific, and helped make the transition a whole lot smoother. Keep in mind, I am a total newcomer to CNC machining and CAM, so anyone with a smidgen of prior programming knowledge will find BobCAD-CAM a breeze, I would think."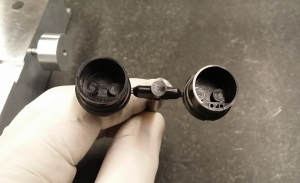 The goal with CNC programming technology is always going to include the ability to increase productivity by providing easy to use CAD-CAM features. To open doors for taking designs and turning them into simple or advanced machining g-code and shortening CNC machine cycle times and more. BobCAD-CAM offers shops modular CAD-CAM to keep costs down and allow shops to add on functionality as they need it. While the shops add 4 and/or 5 axis machining functionality, it all has to remain easy to use and flow in a way that supports production. "I am the CAD-CAM programmer, and…yes…I have definitely experienced an increase in ease of use, not to mention—confidence! I have noticed that it has taken me less time to program a machining function; and I like the fact that I can program a feature in my office, then walk into the shop and have it sitting in the controller, ready to run. Now that's nice", says David. In addition to functionality and post processing, there are times when the shop needs to speak with a technical support representative to get through something. BobCAD-CAM understands this and provides access to support packages for every customer so that the company can properly provide technical assistance.
"Having used BobCAD-CAM now for about three months running, I'll have to say that I should have made this move years ago. The features are extensive—I have V29—and the training is top notch. I watch the YouTube videos, and partake of the webinars that Al conducts, and have learned so much in just a short period of time. The support team is great, as well. They have always been able to help me along with any issue I had. The support is second to none, in my opinion. I am definitely not a whiz at this stuff yet, being a newbie, but I can say it opened a whole new arena for me. The projects, going forward, will be almost entirely CNC'd at some point later this year, thanks to BobCAD-CAM", adds David.
David Decker | Owner – Decker Design Engineering, LLC | Rolla, MO USA | Decker Design Engineering.com
BobCAD-CAM has provided CAD-CAM CNC Software products to the global manufacturing industry for over 35 years. BobCAD-CAM software can be found to increase CNC productivity for many applications including educational and independent hobby home use. Products include machining technology for 2, 3, 4 & 5 axis CNC milling, routing, waterjet, plasma and laser machines as well as 2 axis CNC lathe. BobCAD-CAM also provides a variety of quality training products that include regional and online training classes or private sessions tailored to specific applications. Professional certification can be acquired as well as multi-tiered technical support solutions to their service customers.
Download a Free BobCAD-CAM Demo today HERE