James Hackley is the owner of and the driving force behind 5th Gear Sprockets for 10 years now. Located in Sedona, Arizona, James makes some high-end fishing lures but is more well known for creating sprockets that drive stunt/street bikes, as well as sprocket-themed trophies for stunt motorcycle competitions around the USA.





James uses a HAAS Mini Mill 2 with a 24 turret tool changer to produce his parts. He tells me about his process: "I've designed all the 2D profiles and I have templated G-code files made with the bare bones of everything, minus the exact bolt patterns & hubs the particular sprocket needs. My bolt patterns and hubs are in separate files. If someone orders a specifically sized sprocket file that I don't have, I find where it is and bring it into my template."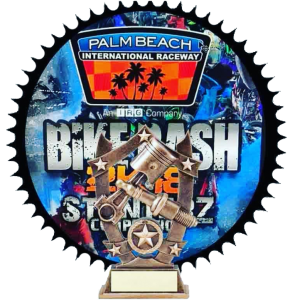 Custom designs can be requested by customers or they can order his premade designs. The designs are made with vinyl material. According to James, this is because a control panel went out on his previous method, a sublimation printer. He now applies a Polymer coating to the sprockets then heat presses the images into them. " Now, more often than not, I use a laser. I Powder coat the sprocket then mask it off. I laser through the masking and the powder, then I'll add another color (as needed). I don't really keep an inventory, most parts are made-to-order," says James.


Subscribe to BobCAD-CAM's CNC Software Blog
Join your fellow manufacturers! Get BobCAD-CAM's latest CAD-CAM articles straight to your inbox. Enter your email below:
So, what got James started with BobCAD's
CNC software
? He tells me, "BobCAD is really the first software I started using, so it's all I have experience with. A friend of mine referred me about 10 years ago. Most of the other, name-brand software was well out of my budget. BobCAD, for me, was not only affordable but easy to use as well… very straightforward. Another big deciding factor for me was the sprocket generator in BobCAD. All I really have to do is create one tooth and rotate my part."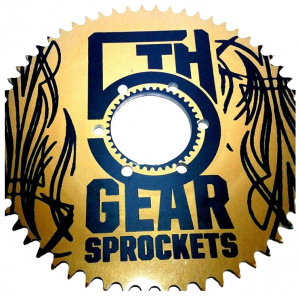 My last question for James was about how he learned to use the software over the past 10 years. His answer was one that I tend to hear a lot: "I typically watch the Youtube videos that you all create… just always trying to educate myself as much as I can when it comes to the software," said James. A true testament that BobCAD is extremely user-friendly and fairly simple to learn with the right attitude!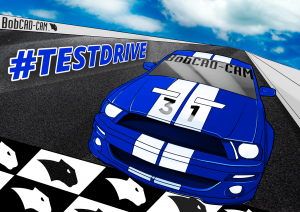 You're one click away from subscribing to BobCAD's YouTube channel. Click the link below for tips, how-tos and much more!