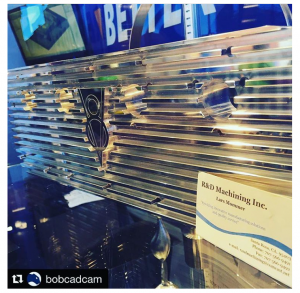 Lars Mommer is no stranger to BobCAD's CAM software or the amazing things that can be made with it. His shop, R & D Machining, is located in beautiful Santa Rosa, California in his 1-acre backyard. It's there that both Lars and his uncle live on the property and they work in the shop together too. R & D specializes in Milling and turning with the capabilities of prototype and production. 5 CNC machines occupy their shop floor; from Mills (2 old knee Mills) to tooling Lathes.

"We use BobCAD exclusively on our 3 Mills. 1 is a standard 3 Axis Mill, another is a 3 Axis with a rotary table and the third one is a 5 Axis. We have 2 seats of the new V31: 1 of them is for the 5 Axis & the other is a 3 Axis Professional seat. We started with V28 and have upgraded each year after since. When we got V31, we also got a great deal on a Service Subscription Plan as well," says Mommer.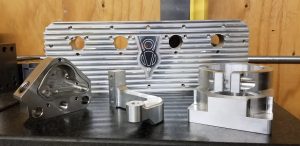 He uses the software to its fullest capabilities and really likes how it is to go from importing a file to a finished product. "When we first started out, we really didn't have a need for anything surface based. They were all just 2D, 'Ok, there's a ledge here' kind of things. But, it wasn't until about 2 years ago that I started getting into using 3D toolpaths & that's when I started requiring our customers to provide us with STEP files over PDFs. They create their part, drop the STEP file in your email and then you just go to town. Really no issues (importing with BobCAD)," says Mommer.


Subscribe to BobCAD-CAM's CNC Software Blog
Join your fellow manufacturers! Get BobCAD-CAM's latest CAD-CAM articles straight to your inbox. Enter your email below: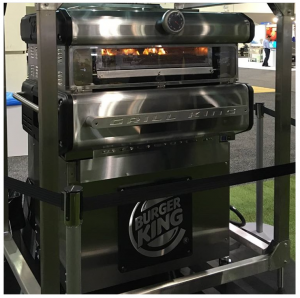 Lars is a longtime customer of BobCAD-CAM and is a great example of someone who never gives up. He has grown with us for over 10 years now and makes a point to stay current in the software. "I grew up with BobCAD as my main software; my uncle taught me what he knew about it and he had V21 at the time. The version I started with didn't have the CAM Tree or anything; it was like, 'Put a line, offset it, pick that line and output the code.' It was almost like copying and pasting. I tried to use another software to see what the difference was and kind of had a hard time with it. It was less intuitive than my BobCAD software. I really like BobCAD's layout too. The other interfaces that I have dealt with are pretty boring and if I am going to sit in front of a computer for 8 hours and program all day, I'd like to at least have something that's not super boring to look at," says Mommer.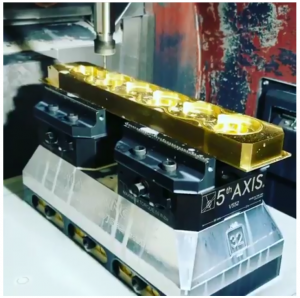 Lars is very active in our CAD-CAM
Facebook groups
and regularly posts the great things he is doing with BobCAD-CAM. When asked which projects he likes the most, he replied, "Oh, pretty much all of them… with the 5 Axis sometimes it's little stuff like an edge-break that just looks cool and your like, 'Ok, I got to post that to social media, even if it's just cutting a chamfer.' Creating the grill for Burger King was pretty cool too. On our Lathe, we have been making the feet for their grills for about 5 years now. It was just a 3D job, nothing really crazy about it. We were ripping out almost 80 lbs. of aluminum in about 40 minutes! It was fun to see how many times the recycle guys had to come back and keep picking up the 55-gallon drums of aluminum we filled up."
Given the amount of time Lars has spent in our software over the years, I was curious about which features he uses the most and if he would ever recommend BobCAD to any other shop owners/friends. Lars was very upfront: "I tell people about BobCAD all the time; they have to tell me to shut up. I have been helped out a lot as a customer of BobCAD, so obviously I'm not going anywhere; I use it every day to make my living. As far as what features I use the most in BobCAD, it's really all of them. More specifically, I use extract edges and the advanced rough a lot. I like to use flatlands for my finishes & floors, thanks to advice from Al DePoalo. For multiaxis, morph between 2 curves & project curves are very useful." Talk about getting your money's worth; Lars and R & D Machining really know how to get the most out of their BobCAD
CAD-CAM software
!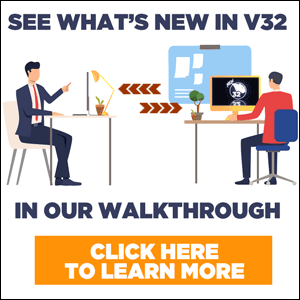 You're one click away from subscribing to BobCAD's YouTube channel. Click the link below for tips, how-tos and much more!