Everything you see around you has been manufactured with a machine backed by technology; however, few people realize how greatly manufacturing and technology affects the world we live in. We will soon close this gap by showing America how a part is designed and brought into the cnc machining stage.
This week we began filming our first ever customer mini-documentary. This video will be the first in a series of short documentaries that cover, in full detail, the start-to-finish process their customers follow when making and machining products with BobCAD software. This series will showcase businesses making all sorts of products and parts, some of which may surprise the viewer.
The first episode in the series focuses on John Hashey – a tattoo artist, teacher, cnc machinist, and United States Marine Corps Veteran that uses BobCAD V25 to design and create his own line of tattoo guns. Hashey's studio and machine shop are located just a few miles away from our headquarters in Clearwater, Florida.
"The goal here is to capture how our BobCAD-CAM software is actually used, the process from design innovation through the cnc manufacturing stage to how products reach markets and end up being used in the real world," stated Chris Corbell, Marketing Executive at BobCAD-CAM. "It's highly educational."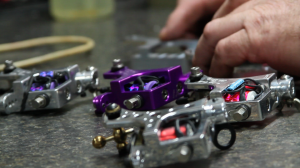 Our video production team followed Hashey around for an entire day, learning about all of the different aspects of his business. Hashey brought us into his tattoo machine workshop and showed us several different tattoo machine models that he created and machined with the BobCAD software, as well as designs he was currently working on inside the software. We were then able to observe the tattoo machines being assembled and used in both a medical cosmetic procedure and in a tattoo application.
The final cut of this episode will show the complete design and manufacturing progression Hashey follows when creating the tattoo machines. Essentially, this documentary series will show viewers how a manufacturer creates a concept part and brings it to life, and then they will see how that part is used in everyday situations that occur in their own lives, helping America realize the true importance of manufacturing.
We are coordinating with other shops in the area to arrange several more mini-documentaries that span across a wide variety of industries. For more information on this project, please contact us directly at 727.442.3554.