Clearwater, Florida, March 30, 2012 "" When BobCAD-CAM Software found out that the 2012 Indiana Statewide Machine Trades Contest, hosted by Vincennes University's Precision Manufacturing Department was under way, they decided to participate in the event again. This year almost 50 of the best of the best students from 11 high schools around the state of Indiana registered for the contest. We awarded BobCAD-CAM software to the first, second, and third place overall winners in the CNC Division, as well as the first place overall winner in the Advanced Division.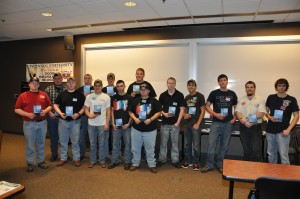 By providing 12 seats of advanced BobCAD-CAM – CNC programming software to the top winners in the competition, BobCAD-CAM continues to show support for schools that prepare students for entering the manufacturing sector. Senior BobCAD-CAM Educational representative Kevin Hughes stated, "These students are the future of American manufacturing, and the contest fully aligns with our Manufacturers of the Future campaigns to support education, and we wanted to make sure that these students are prepared when they"™re ready to enter the workforce."
The "Manufacturers of the Future" campaign supports all schools throughout the country that teach design and CNC Programming by providing cutting edge CAD-CAM software, training and other educational resources to help schools create great curriculum's that are built for student success.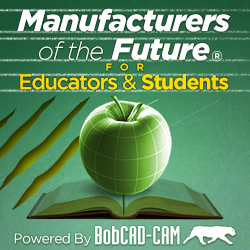 This program is for schools at all levels; high schools and up, including trade schools offering special CNC related curriculum's. Teachers can contact us and we will give them a free license of our complete 2D & 3D CAD-CAM software at no cost and then help them understand it better so that they have options for their students.
There are many different CAD-CAM software providers that have put an importance on education. Yet BobCAD-CAM has made it a priority. Not only are they lowering costs across the boards for education but offer a special sponsorship program that can provide schools with cutting edge CNC programming technology for free when they qualify. Not only this but they work directly with educators/teachers in creating custom programs that work for their students.