Small scale design businesses can now afford to compete with larger companies in the CAD/CAM industry, thanks to BobCAD-CAM's inexpensive modular software. The modular software allows small shop designers to acquire CAD design software without requiring them to also purchase unneeded CAM software, making it possible for them to operate on a tight budget.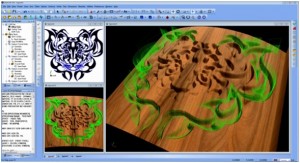 BobCAD-CAM offers quality computer design software software packages that pack big shop power at a small shop price, making them perfect for home, freelance, and small business designers.
The hundreds of design features available allow the user to create simple or complex parts faster and easier, and the modular aspect of the software makes sure that the designer only pays for what he needs.
The CAD module makes collaboration between designers and clients simple and efficient by offering the ability to quickly and easily translate geometry from other design products. The software operates with hybrid modeling technology, which means that the designer can with wireframes, surfaces or solids in any order. Tasks such as drawing and editing are simplified by software features that automatically extract wireframe geometry from a surface or a solid or build surfaces and create solid extrusions from wireframes.
Once the design phase is complete, the software can export popular file types that are compatible with most CAM software products, once again simplifying the collaboration between the designer, the client, and machine shops that will be producing the parts.
The affordability and flexibility of BobCAD-Cam's software ensures that even the home designer or hobbyist can acquire it easily. BobCAD-CAM software provides the largest body of powerful drawing and modeling tools in CAD for the cost, making the software easily accessible to anyone with a need to innovate.
For more information on BobCAD-CAM modular CAD software, visit bobcad.com or call 877-262-2231 today.