Clearwater, FL – Every trade show gives exhibitors the ability to show off new technology, provide industry solutions and the opportunity to meet their public in order to know them better. Build upon existing business relationships, establish new ones and in this case, secure their position as leaders on the forefront of CAM machining innovations. As BobCAD-CAM pulled in to SolidWorks World 2012 they did so as official Gold Partners carrying with them one of the most sought after CAM solutions the manufacturing world has available to it and with one goal in mind. Create headlines with the latest in CAM for SolidWorks users everywhere.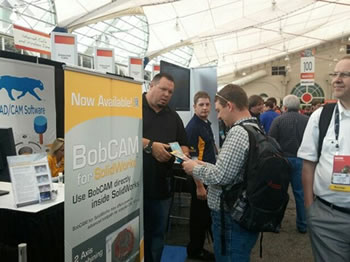 And that's exactly what they did.
As corporate executives to designers with a passion for innovation walked the isles, the BobCAD-CAM crew demonstrated the new BobCAM for SolidWorks CAM product to thousands of SolidWorks users from all over the world looking for faster, smarter and easier ways to meet design and production challenges. "Showing our V2 BobCAM Gold Partner product was a great success at the certified partner theater and it was a real pleasure meeting many new VAR's from all over the world, Germany to Asia Pacific," noted Al Depoalo, the BobCAD-CAM Partner Product Director.
The BobCAM for SolidWorks product is now translated into German, Chinese, Portugues and Spanish to accommodate more countries that are seeking out the product for CNC programming without having to leave SolidWorks to do it. And it seems that everyone is amazed at how low cost such a powerful solution is. "We've had a lot of VAR's and end users stop by and thank us for making BobCAM so available in terms of our price point. We see this as more of an added benefit making it not only user friendly but cost friendly as well," added BobCAD-CAM VP of Operations Lori Pendleton.
Becoming a certified Gold Partner is not as easy as it seems. In order to gain this seal of approval BobCAD-CAM development had to meet significant requirements to ensure that the SolidWorks user had the right CAM functionality available to them. "The attendees were in shock when we actually showed them what our product could do. I was amazed to hear some of the pitfall's they were having in other systems, and that our software handled most if not all of them! Our presentation at the Partner Theater was great as it gave everyone a look at this new product!" said Greg Myers, BobCAD-CAM Development Director.
As SolidWorks World 2012 came to a close the general consensus was that the event was a huge success and a launching pad for things to come. Visit the BobCAM webpage for more details on BobCAM for SolidWorks!