Effective February 3, 2022
BobCAD-CAM Inc will support the following versions.
Current Supported Versions:
BobCAD-CAM Software Versions
BobCAD-CAM V29 / BobCAD-CAM V30 / BobCAD-CAM V31
BobCAD-CAM V32 / BobCAD-CAM V33 / BobCAD-CAM V34 / BobCAD-CAM V35
BobCAM for SOLIDWORKS Software Versions
BobCAM V5 / BobCAM V6 / BobCAM V7
BobCAM V8 / BobCAM V9 / BobCAM V10
BobCAM for Rhino Software Versions
BobCAM for Rhino V1 / BobCAM for Rhino V2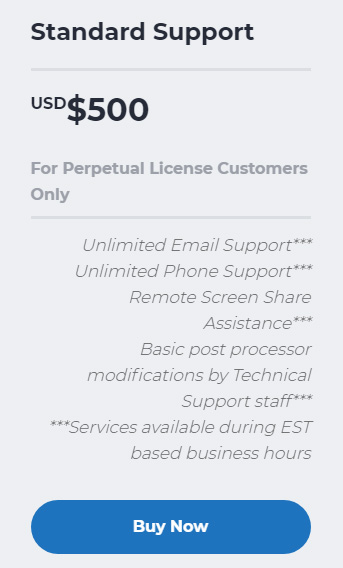 Updates, enhancements and software revisions will only be on the newest software release.
BobCAD-CAM V19 Mill, BobCAD-CAM V19 Wire, BobCAD-CAM V20, BobCAD-CAM V21 and newer can be eligible for re-registration. In order for software to be eligible for re-registration the software must be properly deauthorized through our registration department. If the software cannot be properly deauthorized a re-registration will not be available.
Dongle keys issued for BobCAD-CAM V22 or BobCAD-CAM V23 are not supported and this system has been discontinued. BobCAD-CAM V22 cannot be re-registered. BobCAD-CAM V23 can be eligible for re-registration but will no longer work with the dongle key. BobCAD-CAM V18 and older cannot be re-registered and must be upgraded to a current version of software.
SolidWorks CAM Plug-in: All versions of BobCAM software are eligible for re-registration.
---
Current Versions Available for Registration:
BobCAD-CAM Software Versions
Version 19 Mill / Version 19 Wire / Version 20 / Version 21 / Version 23
Version 24 Version 25 / Version 26 / Version 27 / Version 28 / Version 29
Version 30 / Version 31 Version 32 / Version 33/ Version 34 / Version 35
BobCAM for SOLIDWORKS Software Versions
BobCAM V1 / BobCAM V2 / BobCAM V3 / BobCAM V4 / BobCAM V5
BobCAM V6 / BobCAM V7 / BobCAM V8 / BobCAM V9 / BobCAM V10
BobCAM for Rhino Software Versions
BobCAM for Rhino V1 / BobCAM for Rhino V2