In this Tech Tuesday, we will look at four ways to save your CAM settings for faster part programming. We are reviewing BobCAD user favorites like copy and paste, and some newer options released over the last few versions. These time-saving options are available in BobCAD-CAM V34, BobCAM for SOLIDWORKS V9, and BobCAM for RHINO V2.
The first option we are reviewing is Copy and Paste. After creating a Feature in the CAM Tree, you can right-click on that Feature and select copy. You can then go to a different setup or Job, right-click in the CAM Tree, and select Paste Feature. Select your new geometry, review your settings and then compute the toolpath.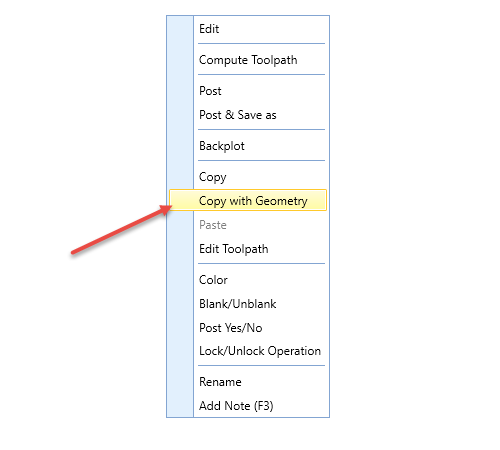 What if the Feature you are programming uses the same geometry and settings, just in a new job? Use the New Copy with Geometry,save time by not having to re-select the geometry for your Feature. After copying with or without the geometry, you will right-click inside the new job to paste that Feature.
Next let's review the Save/Load Feature option. Using copy and paste is a big time saver for moving features around between setups and jobs, BobCAD also allows you to right-click on a feature and select Save Feature. This way you can save Features in a library of all the Features you most commonly use. You can then load any of these Features in new CAM jobs. Save time by re-using common machining features (and their settings) across multiple jobs.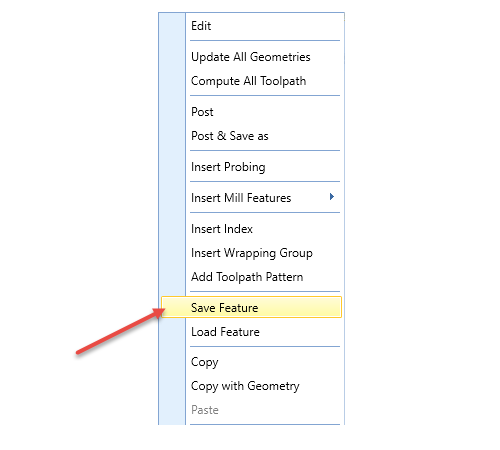 This next Feature can save you plenty of time while creating a more customized CAM Tree environment. You'll notice when stepping through any machining wizard there is now a button at the bottom-left corner labeled Save Defaults.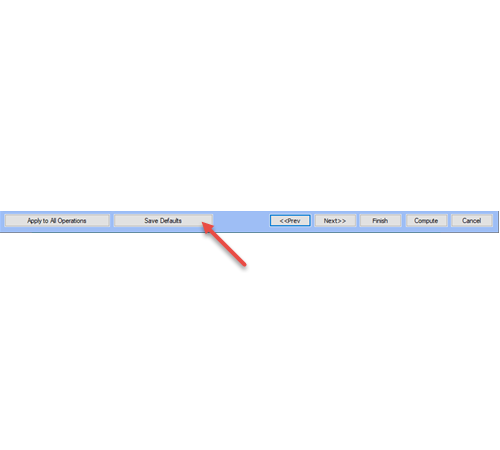 When clicking this button, all toolpath settings on that page are saved as the default settings for that specific operation.
For example, when creating a 2D pocketing operation in BobCAD, the default pattern is a standard offset pocket. What if you want the default pocketing pattern to be adaptive? Just change the pocket pattern from offset pocket out to adaptive, then click on the Save Defaults button. Now every time you create a pocket Feature the default pattern will be set to adaptive. No more changing these settings each and every time!
The last option we will be reviewing today is the Job Template option. Before we offered this option, every time you created a new job you started with a blank CAM Tree. You had to pick the job type, tools, stock, and setup location. All these steps need to be taken before you can start creating machining Features.
BobCAD's New CAM tree templates short cuts this process by saving all the Job settings as a Job Template. The next time you go to create a similar job, you can start with your saved CAM Tree template.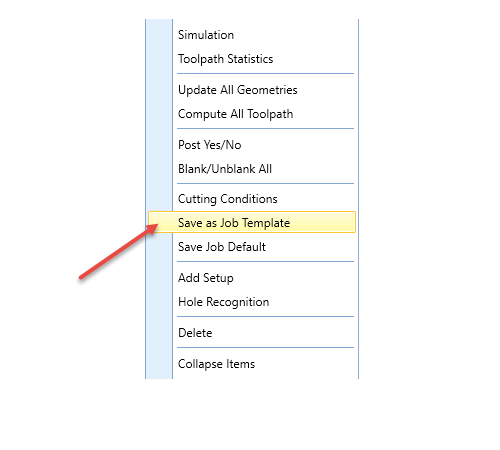 Just right-click on the Job in the CAM Tree and go down to Save as Job Template. You can name it to differentiate the Job Templates you have previously saved.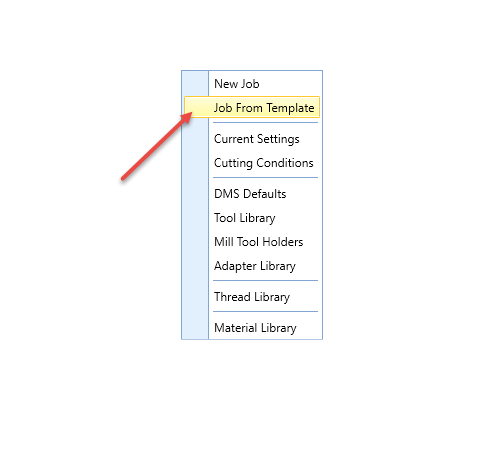 Then in a new file, you can go to Job from Template to load in a Job Template.
Download a free demo version of BobCAD-CAM today!
Here are a few resources to use for all things BobCAD-CAM:
Our support site allows you to submit a ticket to technical support online:
www.bobcadsupport.com
Our user forum is a community of other BobCAD-CAM users to share ideas and projects in BobCAD-CAM:
forum.bobcad.com
BobCAD-CAM has provided CAD-CAM CNC Software products to the global manufacturing industry for over 30 years. BobCAD-CAM software can be found to increase CNC productivity for many applications in aerospace, automotive, production manufacturing, mold making, general machining, woodworking as well as the medical manufacturing industry, consumer products, musical instruments, custom fabrication, defense industry and many others due to the products ability to automatically generate NC programming code for such a wide variety of CNC controllers. BobCAD-CAM software is also found in educational institutions throughout the world as well as independent hobby home use. Products include machining technology for 2, 3, 4 & 5 Axis CNC Milling, Routing, Waterjet, Plasma and Laser machines as well as 2 Axis CNC Lathe. BobCAD-CAM is modular allowing shops to start off at a reduced technology level and add technology as it is needed including an add-on, BobART, for artistic machining. Unique technology includes adaptive high-speed machining multiaxis milling and routing which is a first in the world of CAD-CAM software. BobCAD-CAM also provides a variety of quality training products that include regional and online training classes or private sessions tailored to specific applications. Professional certification and multi-tiered support solutions are available. Contact BobCAD-CAM directly for more information at 877-262-2231 or 727-442-3554
New Feature Spotlight – Tell us the topics that are most important to you Click Here