BobCAD-CAM has been a computer aided design and computer aided manufacturing software provider for over 30 years. This CAD-CAM technology is used by machine shops around the world for design and CNC machine programming. BobCAD-CAM has released their core upgrade which is the new version 29 software.


Version 29 is now their latest core product that offers a variety of modules for CNC Milling, Lathe, Routing, Laser, Plasma, Waterjet and CNC Burning cutting tools. The version 29 product adds a series of important features for CNC programmers to use and benefit from.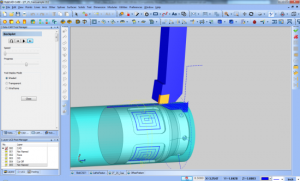 The release of BobCAD-CAM V29 brings with it, the most powerful, versatile Lathe module in the history of the BobCAD-CAM software family of products. The Development team at BobCAD-CAM has rebuilt the Lathe portion of the software to deliver unparalleled control and power to our customers. "We build our software based on customer requests, and this release is no different," says Greg Myers, who manages the development of their CAD-CAM software. He continues, "BobCAD-CAM V29 brings functions that provide speed, intelligence, and much needed organization to the easy to use flow that our customers know and love".
The simulation is an incredibly powerful tool allowing you to check everything from cut time to part deviation. In some cases, you may just need to check simple tool movement on one single operation. It is in cases like this that setting other operations to not be shown in simulation, then launching the simulation itself, checking one thing, then exiting the simulation seems to take forever. BobCAD-CAM now offers a way to track tool movements for a single operation without the need to launch the simulation. By right-clicking on an operation and selecting the Backplot options, users can now see the tool movement for a single operation directly in the CAD Window.
Other features include
– Spun Profile
– Chain Filleting
– Backplotting
– Ability to Update All Geometry
– Tapered Threads
– Thread Side Roughing
– New Thread Mill Tool Types
– Spiral Pocketing for Circles
– Helical Arc Output for Spiral Entries
– New Gouge Checking
These features and many others make Version 29 an amazing solution for CNC manufacturers of all sizes. Click HERE to see all the new features of Version 29 as well as download a free trial version.
Contact BobCAD-CAM directly at 877-262-2231 for more information.