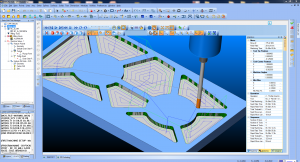 2D CAD-CAM solutions for CNC machining include faster, smarter features that combined, is the part-making automation gateway to manufacturing efficiency for shops both small and large that seek success. CAD-CAM solution providers have thoroughly addressed 2D CNC programming technology. Mostly long ago, yet a small handful has continues to give the bulk of the machine shop manufacturing world powerful functionality that includes time-saving toolpath strategies, advanced automation programming operations that combine tool and material data with high-level, wizard-driven machining parameters that are so easy to use that advanced CAM users are satisfied and novice users are bridging the gap at lightning speeds. All this achieved in the name of volume CNC machine productivity that commands a profit. The latest BobCAD-CAM 'Express' CAD-CAM system is at the top of the list when it comes to complete 2D machining.
What are these 2D CAD-CAM solutions and capabilities?
– Face Milling
– Profiling
– Pocketing
– Engraving
– Plunge Roughing/Drill Rough
– Chamfer Milling
– Corner Rounding
– Multi-Tool Hole making strategies
These 2D CAD-CAM Solutions make programming 2D parts far easier than ever before. So, what's the cost? Far less than what a typical 2D job makes the average shop. Benefits include CAD design functionality and file importing. Solid & Surface modeling is now easily accomplished in a CAD Design Action Tree with the Express product.



BobCAD's latest 'Express' CAD-CAM solution also includes Dynamic Machining Strategies™ allowing the user to apply any combination of machining operations to a single CAD feature in the part model. DMS functionality is essential to reducing programming steps and production time. Post processing has been simplified since posts are customizable by the user. There are also hundreds of free post processors on the BobCAD website that are available for their customers to download.
You're one click away from subscribing to BobCAD's YouTube channel. Click the link below for tips, how-tos and much more!