The new BobCAD-CAM 5 Axis PRO CAD/CAM software has an intuitive interface that makes programming complex parts easy. Machining wizards remove the guesswork from creating g-code programs for the most complex jobs, allowing you to take full command of your toolpaths.
5 Axis CNC software opens the doors for new parts that cannot be machined on 3 Axis machines, such as turbine blades, impellers, and automotive port finishing.
One of the new toolpath machining strategies available in this new 5 Axis milling software is the ability to "Morph" between surfaces. Using this option will enclose the drive surface by two check surfaces and the generated toolpath will be approximated between the check surfaces and evenly spread over the drive surface. This method is particularly helpful for impeller machining, because of the twisted turbine blades.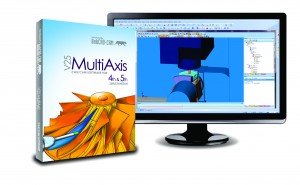 The new adaptive roughing strategy has many benefits, including: constant cutting conditions; the ability to use higher feed rates; extended tool and machine life; and reduced overall machine cycle times on jobs.
Calculation and machine time are drastically reduced through the use of constant tool engagement and support of multi-core CPU's.
Multiaxis CNC software has the capability to produce more complex parts while simultaneously reducing the amount of manual work required. The new tangential tool movement allows for a smoother finish and shortened finishing time.
With a variety of new toolpath machining strategies to choose from, CNC programmers will have a huge advantage in CNC Port Machining.
5 Axis PRO CAD/CAM software is now available in affordable bundles. For more information on BobCAD-CAM software contact BobCAD-CAM directly at 877-262-2231 today or download a trial version here.