Discover what the Best CAD CAM features are for working with images. Make sure to join us this week as we review BobART and how to use it to load image files, move them to position, and convert them to the geometry you can 3D engrave with a V tool cutter.  For most CAD-CAM systems, you can't just open an image file you downloaded off the web and start cutting.  You need to convert that pixel-based image into vector-based geometry to create a toolpath from it.
Weekly CAD-CAM Training – Join Us Here 
BobCAD-CAM | BobCAM for SOLIDWORKS | BobCAM for RHINO 
Why is BobART one of the Best CAD CAM Features for Working With Image Files?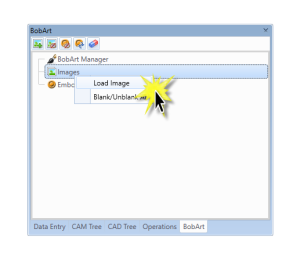 BobART adds CAD and CAM features to your  BobCAD CAM license, allowing you to open, manipulate and convert pixel-based graphics to vector-based geometry that you can engrave or 3D carve with!
Best CAD CAD for IMAGES
Using BobART, you can open and manipulate graphics files in your CAD environment.  Allowing you to place your image anywhere on your design easily.  New drag corners make it easy to scale up or down the graphics for its perfect placement.  After you have positioned the picture(s) where you want, you can adjust the transparency, making it easier to view when tracing over images or using images as "guidelines" for your geometry creation.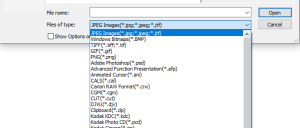 BobART adds many "graphics" based file types you can work with, but the most common are PNG and JPG files.
Does BobART Support Vector-Based Files?
Yes!  Adding the BobART also adds additional vector-based files common to art-based projects.  EPS, AI, and PDF files are supported when opened through BobART.
Can you work with more than one image at a time?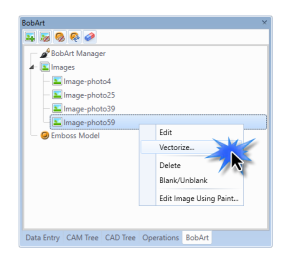 Yes! You can open a single graphics image or load multiple images to work with at a time in the BobART Manager.

Changes applied in recent releases represent a significant saving of programming and machining time; for this reason, we recommend watching all the training videos, attending all of our webinars/training events, read our blogs, and use your online training.  BobCAD is constantly evolving, you may be wasting time and money just due to your lack of knowledge.
Thank you all very much and we look forward to seeing you at the next webinar on this topic:
Working with Images & V Carving: May 3rd @ 1PM
Related Video(s)
Getting Started Online Classes  – Sign up here it's Free. 
Which toolpath options come with what packages?
Use the toolpath matrix.
Questions?   Call Us  @ 727-442-3554