Manufacturers in all sectors of the part-making industries are looking for easier methods of automating the design to CNC machining process. The goal is to achieve success as efficiently as possible while keeping the cost of automation technology within budgets and real in terms of how parts are designed and programmed for CNC.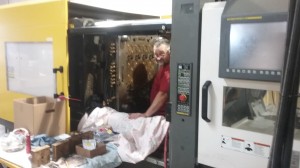 Mark Gruber is a manufacturer with goals, steep production demands and the CNC machine tools to get things finished on time for his customers. He just needed a solution that would match his requirements, affordably. BobCAD-CAM software is what he uses to achieve success. This is what he had to tell us when we asked what he thought of the software.
"I bought a Tormach 1100 mill when my nephew and I needed some parts machined. We were just getting beat up on the price having them made for us buy another shop which was killing our profit. After purchasing the Tormach PCNC 1100 mill, we went to work producing our parts at a much better cost per part", says Gruber who was determined to reduce costs and provide an excellent quality part for his customer on every job.
He continued to say, "I have always worked with CNC mills and lathes but never with a computer-controlled machine. I hired a guy to work with me doing the initial part programming and he wanted me to buy a seat of a very expensive, popular CAM software which was way out of my budget. I came across BobCAD-CAM and it fit my needs as well as my budget." BobCAD-CAM software is "modular" meaning that there are different levels of the software allowing a machine shop to start off with a basic set of toolpath machining capabilities and grow with the technology as needed. For example, the CNC milling CAM software has a basic 2D version that can be added to as needed to 3 axis, 4 axis and even 5 axis. Lathe capabilities can be added at any time. The BobART add-on allows a person to turn a picture into 2D or 3D geometry, relief models or surfaces that can then be machined with a wide variety of higher level surface-based toolpath machining strategies.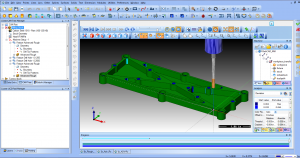 Complete 3D solid simulation is built-in so that all toolpaths and operations can be visually inspected before anything is sent to a CNC machine tool and the post processors are customizable even though there are hundreds of them that are already available for many different CNC controller types. Not only is the BobCAD-CAM software modular but it is regularly upgraded by the company. the CAD-CAM development team at BobCAD-CAM takes requests and customer feedback and continues creating CAM software that provides end users with what they actually need.
Gruber continued to say, "I bought two seats of version 23 and upgraded to version 24 and have used version 24 for a few years now. I recently upgraded to version 29 . I must say I like the new features. especially in the 3D modeling capabilities. I also work at a plastic manufacturing facility which does Extrusion and injection molding and I have used BobCAD-CAM to model a variety of part profiles." He continues, "BobCAD-CAM is a great CAD-CAM program. In hindsight, it was money well spent and a decision that I have not regretted once. The technical support people at BobCAD-CAM have impressed me many times. They really know what they're doing and how to treat a customer."
Several years ago BobCAD-CAM decided to provide a unique solution to users that allowed them to visit after hours and learn more about the software, interact that even ask for tips or videos that would help them achieve success. And so, BobCAD-CAM launched "BobCAD After Dark" to help customers any time they needed it.
"I like watching the after Dark training videos by Al. He really makes drawing parts and producing toolpaths look easy. which by the way, it really is", says Gruber.
BobCAD-CAM software has also created their Training Professor Videos for all their CAM software to train users anywhere and anytime the easy way. "The training videos are extremely helpful and made learning to program much easier," says Gruber about the training videos he received.
He finished by saying, "BobCAD-CAM is a great program and well worth the investment."
Mark Gruber | Manufacturer | McKinney, TX
BobCAD-CAM has provided CAD-CAM, CNC Software products to the global manufacturing industry for over 30 years. BobCAD-CAM software can be found to increase CNC productivity for many applications including educational and independent hobby home use. Products include machining technology for 2, 3, 4 & 5 axis CNC milling, routing, waterJet, plasma and laser machines as well as 2 axis CNC lathe. BobCAD-CAM also provides a variety of quality training products that include regional and online training classes or private sessions tailored to specific applications. Professional certification can be acquired as well as multi-tiered technical support solutions to their service customers.
Contact them for more information today at 877-262-2231 or 727-442-3554.
Download a Free BobCAD-CAM Demo HERE