Pioneer CNC Software Provider Releases New BobCAM V6 Training Video Series to cover CNC Lathe.


BobCAD-CAM, Inc. has released the ultimate training professor video series for BobCAM for SOLIDWORKS™ users that want to learn how to program their CNC lathe without leaving the SOLIDWORKS environment.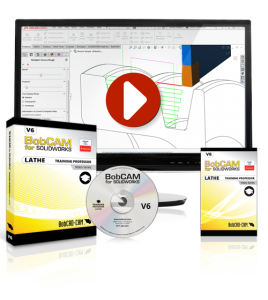 The new BobCAM V6 Lathe Training Professor Video Series gives you the power to master your CAM software for CNC lathe machine programming. This comprehensive learn at your own pace DVD and digital workbook covers everything from setting up jobs with CAM wizards and Dynamic Machining Strategies™ to optimizing turning operations and simulating the job.
With these DVDs, you'll learn about…
• Applying Turning and Grooving Toolpath Strategies
• Creating Custom Tools & Holders
• Tool Compensations
• Lead Ins & Lead Outs
• The Material Library
• Setup Sheets
• And Much More!
The training set delivers easy to follow video that you can reference again and again. Whether you're learning the software for the first time, want to sharpen your skills, or need to train new hires; this affordable training solution will have you turning better parts in less time. This new BobCAM for SOLIDWORKS V6 Lathe Training Professor Video series is like having a personal training professor in a box, teaching you everything you need to know about the BobCAM V6 software from A to Z for lathe!
For more information on this new BobCAM V6 Training Professor Video set, contact BobCAD-CAM directly at 877-262-2231 or 727-442-3554.
Learn More HERE