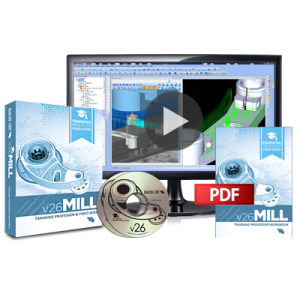 Clearwater, Florida – December 16, 2013 – BobCAD-CAM has just released its complete v26 Training Professor Book & Video Series for customers that have acquired their Version 26 CNC programming CAD-CAM software. The new training package covers ample training for those seeking to become proficient in design and CAD/CAM programming using the BobCAD-CAM v26 software. Since the new v26 CAD-CAM software has many powerful new enhancements, the training staff at BobCAD-CAM went to work creating an extensive training curriculum to cover all the current features of the software.
The training video series is portable so that customers can use them virtually anywhere; on the road, in their office, or in the comfort of their home. Actual sample CAD files used in the videos are included, allowing customers to practice creating toolpath programs for their machines without having to spend the time drawing and designing similar parts. In addition, the training lessons cover all of the machining operations including toolpath machining strategies, simulation, post processing, setting up CAM cutting conditions, tools, material, and much more.
"This new video training series and workbook enable customers to become an expert quickly on our software", said Sean Owen, Product Support Director for BobCAD-CAM, Inc. "We are very excited about this new training series as it satisfies the users needs in terms of some that might only want CAM and then others that want both CAD and CAM together," adds Owen. The new training professor series is delivered on a set of CD's that contain the digital workbook, a library of pre-made CAD files that correspond to the workbook tutorials and 100+ individual training videos.
The workbook CAD-CAM tutorials contain step-by-step lessons guiding customers through the design phase of a part file and then on through the toolpath stages and programming of parts. Customers wanting more focus on CAM can simply open the pre-made files for each lesson and jump to the CAM portion of the tutorial. Each lesson is self-contained, so customers can learn and practice examples at their own pace and tackle new lessons as their shop capability needs arise. The guidebook index lists each training subject so you can jump to the correct CD and train on any subject of interest easily and quickly. This series is like having a personal training professor in a box, teaching you everything you need to know about the v26 BobCAD-CAM CAD and MILL software from A to Z.
For more information on the new Version 26 Training Professor Video Series, contact BobCAD-CAM directly at 877-262-2231 or 727-442-3554.