Pioneer CNC Software Provider Releases New BobCAD V29 BobART – Artistic CAD-CAM Training Video Series to help BobART users become experts at how to use the add-on the easy way!



Clearwater, Florida, January 4, 2017 – BobCAD-CAM, Inc. is a global pioneer in CAD-CAM technology for design & CNC manufacturing. Their BobCAD-CAM V29 software is used by manufacturers to import and design parts for machining and then it creates the toolpath and NC or g-code program that is then sent to the machine tool. They have just released their new BobCAD V29 BobART, artistic design and machining Training Professor Video Series to educate users on everything they would need to know to use the software for turning pictures into 2D or 3D geometry for CNC machining and much more.
The BobCAD-CAM V29 BobART Training Professor videos include:
• 29 Individual Training Videos
• Over 2 Hours of Video Training
• 367 Page Training Manual
• Corresponding CAD Training Files
The training videos come on a DVD that also includes a digital PDF copy of the training manual.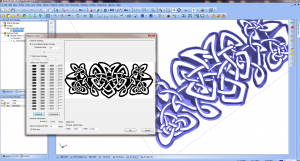 The new training professor CD series is perfect for learning the software in the comfort of your own office, or anywhere you can play the CD. Lessons include lessons on sculpting and smoothing, embossing from an image, vectorizing images into 2D geometry for creating CNC machine toolpath, Embossing features from an imported DXF file, v-carving, image tracing and much more. The BobART add-on is used for turning a picture into vector geometry that can be used for creating relief models, 2D machine toolpath and creating sculptures that can be machined within the BobCAD-CAM V29 software. The product is excellent for sign-making, wood-working and any application that requires v-carving or an artistic type machine finish.
This new BobCAD-CAM V29 BobART training series is like having a personal training professor in a box, teaching you everything you need to know about the BobCAD-CAM BobART add-on software, from A to Z!
For more information on this new BobCAD-CAM V29 BobART Training Professor Video set contact BobCAD-CAM directly at 877-262-2231 or 727-442-3554.
Download a FREE Demo of BobCAD-CAM V29 with BobART HERE