Pioneer CNC Software Provider Releases New Sign Making – CAD-CAM Training Professor Video Series.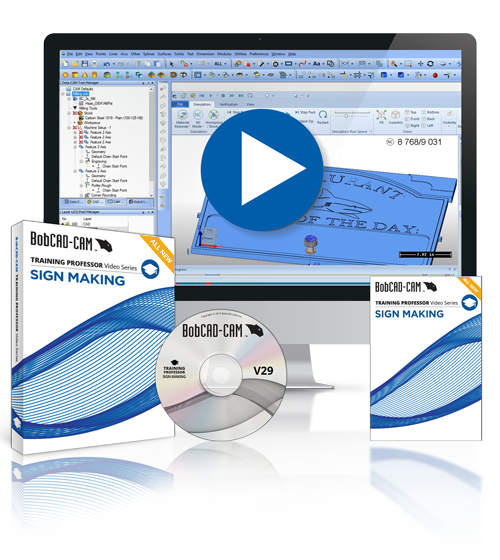 BobCAD-CAM has released the ultimate training professor video series that is aimed at the sign-making industry. The new Sign Making Expert was created to train you on any sign-making job by learning how to use all of the features and functionality inside BobCAD-CAM for 2D and 3D sign making.
First, you'll learn the basics of creating a sign, from drawing your geometry to working with images and DXF ClipArt. Then you'll dive into to more complex sign making strategies – from embossing and texturing to creating components. From there, you'll learn how to machine and cut out each sign.
These videos teaches anyone how to…
• Design Eye-Catching 2D & 3D Signs in CAD
• Create Toolpath to Machine Your Signs on a CNC Mill or Router
• Use the BobART Module to Get Even More creative with signs
• And Much More!
Complete Set Includes:
• 14 Sign Making Projects Split Into CAD and CAM Sections
• CAD Training Files to Use with Corresponding Sign Projects
• Over 5 Hours of Sign Making Video Training
• Lessons that Cover the BobART Module (Optional Add-On) and the DXF Clipart "Art to Part" Collection (Optional Product)
This new BobCAD-CAM Training Professor Video series is like having a personal training professor in a box, teaching you everything you need to know about the BobCAD-CAM, DXF ClipArt and BobART add-on software from A to Z!
For more information on this new BobCAD-CAM Training Professor Video set, contact BobCAD-CAM directly at 877-262-2231 or 727-442-3554.
Download a free Demo HERE.