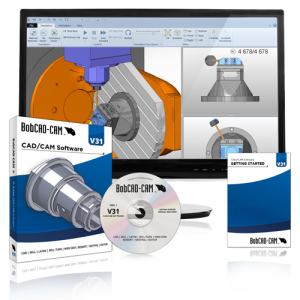 Clearwater, FL — (www.bobcad.com) — BobCAD-CAM, the world leader in affordable & powerful CAD-CAM software, announces the release of BobCAD-CAM V31. It is now available for purchase and will debut September 2018 at IMTS in Chicago, booth E133128. "We here at BobCAD are super excited to unveil our latest BobCAD-CAM V31 to the public. The most noticeable change will be the brand new user interface which utilizes the more modern ribbon bar style found commonly in most of today's applications. This is such a vast improvement in the user experience over the previous versions for existing customers and new users alike," says Greg Myers of BobCAD-CAM's developmental team. Version 31 contains powerful new features for designing and machining that benefit 2-5 axis job shop manufacturers. Improvements in this version have touched all aspects of the software.

Redesigned User Interface
V31 is all about user experience, reinforced with our modern, intuitively organized ribbon-style interface. Functions are easily discovered and logically grouped with both icon and text labels for buttons, paired with a contextual ribbon that includes every function needed to complete the job.




CAD – New Geometry Creation Workflow
Enhanced CAD functionality allows you to utilize multiple creation methods from a single feature coupled with a selection manager that aids in the design process. Over 20 new CAD features in V31 makes it easy to get more done in less clicks.

CAD – Construction Geometry
Create geometry with greater ease by utilizing construction lines that can be toggled on and off. While they are on, the construction lines can assist you with finding horizontal and vertical, tangencies, intersections and more.

CAM – New Patterns for Advanced Pocket & Advanced Rough
V31 is loaded with more options that reduce cycle times and deliver better finishes. Choose from 5 dynamic cut patterns, including Morph Spiral which can reduce or eliminate direct link moves. Users can also utilize Offset-in, delivering an initial pass away from the finished wall.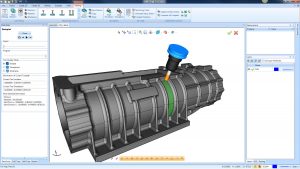 CAM – Advanced Z Level Finish Linking Position Control
V31 enhancements to CAM operations allow you to control your tool's starting location for complete control and precision. Additionally, take full control of your CAM with user-defined values or pick from the graphics area. Control tool witness marks and their locations with ease.


You're one click away from subscribing to BobCAD's YouTube channel. Click the link below for tips, how-tos and much more!