CNC software pioneer, BobCAD-CAM, Inc., announced today that the WESTEC manufacturing expo (September 15-17, 2015) would be the first tradeshow opportunity for business owners, designers, and programmers to see the new BobCAD-CAM Version 28 software series since it's July release.
"We're excited to bring the new V28 software to WESTEC this year," said Sean Owen, COO of BobCAD-CAM. "Not only did we make major upgrades to the core software, but we also launched a completely new CAD-CAM module with Mill Turn capabilities. This is a very significant addition to our product line as we can now offer a full CAD-CAM solution to nearly ever type of machine shop."
The Latest in CNC Programming Will Be On Display
BobCAD-CAM will showcase all of the new CNC programming features available in V28, including:
Faster Drawing Tools
Smarter Hole Making Systems
Better Surfacing Toolpaths
More Tool Type Support
Improved Simulation
And More
The company will also display their brand new Mill Turn module which supports CNC programming capabilities for the increasingly popular mill turn / multitasking machine configurations.

Demonstrations of the new software will offer full coverage of the core features which have been developed over the company's 30 year history, including the wide array of CAD design tools, the software's wizard driven interface, Dynamic Machining Strategies™, 2-5 axis high speed adaptive toolpaths, simulation, reporting tools, and much more.
BobCAD-CAM is offering live one-on-one demonstrations of the new Version 28 software and Mill Turn module all-day at the WESTEC Booth #1827 at the Lost Angeles Convention Center in Los Angeles, California September 15-17. Interested parties are encouraged to call 877-262-2231 x123 today to schedule their one-on-one demo appointment.
Show Special Pricing
Attendees of WESTEC will have access to show exclusive CAD-CAM product specials. These will include a wide array of core CAD-CAM software and add-ons.
Software Availability
Demos of the new Version 28 and Mill Turn module can be downloaded prior to WESTEC from BobCAD.com. For more detailed information about BobCAD-CAM V28 product features visit the What's New in V28 page or call 877-262-2231 to speak with a BobCAD-CAM representative today.


Here are some related CAD-CAM articles you may be interested in:
Summary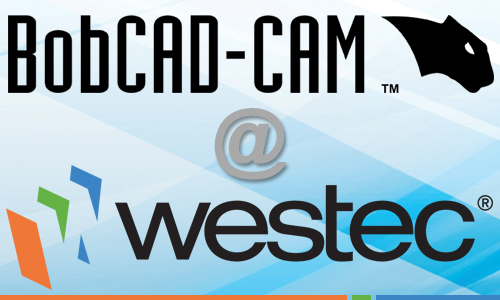 Article Name
BobCAD-CAM To Showcase New CAD-CAM CNC Software Technology at WESTEC
Description
CNC software pioneer, BobCAD-CAM, Inc., announces the WESTEC manufacturing expo will be the first tradeshow appearance for the new BobCAD-CAM Version 28 software.
Author
Nick Erickson | BobCAD-CAM