Last week, BobCAD-CAM presented their new MultiAxis software for over 37,500 racing industry buyers and enthusiasts at the world's largest racing trade show. On top of having a heavily manned booth that continuously provided CAD/CAM software demonstrations, BobCAD-CAM Training Director, Jeff Lemen, gave a seminar for trade show attendees.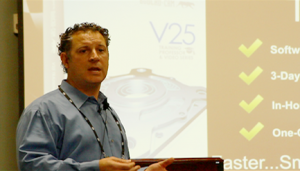 Lemen's seminar at the PRI Trade Show in Orlando November 29th, 2012 addressed how BobCAD-CAM can make the difference between finishing first and not finishing at all.
The presentation began with an explanation on how to reduce shop labor costs and improve company efficiencies using BobCAD-CAM, allowing for resources to be directed into other important areas such as new machinery, new projects and materials.
Next, Lemen went into detail on how to expand company capabilities though reducing the amount of outsourcing by cutting parts in house. Even companies that do not have a CNC machine can use BobCAD's modular CAD software to design their own parts and then send the part file to their favorite machine shop.  BobCAD-CAM software allows a customer to import a part, create toolpaths, and calculate an estimated cycle time for the job through the advanced simulation.
The seminar also covered the different ways that BobCAD-CAM will cut user training time.  The software is user-friendly and keeps design aspects simple; for example, you can trace parts and gaskets on a sheet of paper and scan them into the CAM system, eliminating the need to draw them in the CAD side, which is perfect for difficult legacy gaskets and worn parts that are no longer available.
With BobCAD-CAM software, companies will never need to pass on another project and lose revenue because machinists weren't sure how to get the job done.  BobCAD-CAM allows users to create, complete, and test 2D and 3D models.
Lemen wrapped up his presentation with a caution against the dangers of Doing Nothing.  "Your competitors are constantly expanding their skills, capabilities and their revenue," warned Lemen.  "You need to as well or you'll get left at the starting line!"
For more information on the new BobCAD-CAM software contact them directly at 877-262-2231 today or download a free trial version at bobcad.com.