The V25 4 Axis software from BobCAD-CAM comes with several new features that place quality and precision multi-axis machining right at your fingertips.
The new un-wrapping CAD feature helps simplify the rotary conversion while you create your jobs in a Job Tree Manager that is very easy to use for 4th Axis CNC Programming. Some other new features include the ability to automatically detect indexes and rotation angles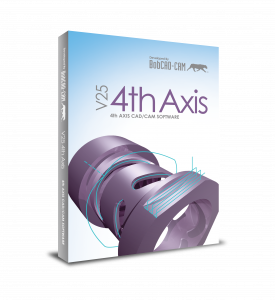 by selecting part faces and 4Axis cuts in non-simultaneous motion that can be used for index or wrap cuts around cylinders or tapered stock.
The rotary toolpath is similar to wrapping but does not require flat geometry; the rotary toolpath works with a solid model to create 4th Axis cutting. Using the 4 Axis Rotary tool paths you have the option to cut along or around the model. You can cut with a Zig, Zig Zag, or Spiral pattern.
V25 Mill 4 Axis also has an added Tool Path Pattern feature that allows you to create one tool path feature, or a series of tool path features, and make an array, rotation, or translation of those tool paths. This is a very useful feature all around, but saves huge amounts of time in 4 Axis machining in particular.
"The new BobCAD-CAM V25 4 Axis Pro module now gives BobCAD-CAM customers the complete control they need in order to machine any part on their 4 axis machine in the most efficient manner possible," stated BobCAD-CAM Developer, Greg Myers. "With the new surface based toolpath strategies, full simultaneous 4 axis motion can be achieved to get the parts cut that just simply can't be done by indexing alone."
4 Axis PRO CAD/CAM software is now available. For more information on BobCAD-CAM software contact us directly at 877-262-2231 today or download a trial version here.