CAD-CAM software is used throughout manufacturing to automate and streamline the CNC part-making process. Often times even a hobby can go big using effective manufacturing technology and CNC automation type tools. Increasing production and profitability is clearly within the wheelhouse of CAD-CAM technology through advanced high speed machining toolpath, Dynamic Machining Strategies™, Simulation, user-definable Post Processing and so much more. Modern CAD-CAM and CNC machining provides the innovators of the world with the means of making parts faster, more efficiently and much more affordable than ever before. Because of this, a hobbyist can transform an idea and a passion into a leading manufacturing business. This brings us to Allen Mullis and his success as the owner of Mullis Mechanical in Union County, North Carolina.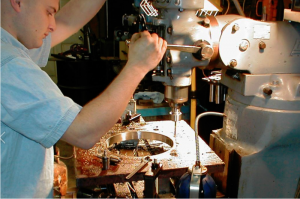 Allen Mullis started his machine shop at 18 years old with a manual Bridgeport and a manual LeBlond lathe in 1999, making parts for whoever might need something. It started as something to do in his free time. Basically a fun hobby that remained that way for a couple of years. As time went on he found myself buying equipment when it was available as he had the money to do so. Before Allen knew it he had a shop full of manual machines and a growing return customer base that needed CNC manufactured parts. Allen decided to quit his day job in a tool room in 2007 because his day job was simply getting in the way of his love and hobby which was now making him more money than he was making at his regular day job.
Over those few years Allen created a large scale CNC machine shop. "I bought my first CNC machines in early 09′ in the form of a Prototrak DPM bed mill and a 1745P Prototrak lathe. It was a huge step and the most money I had ever spent on any machine ever at that time," says Allen. He thought he would never recover, but it wasn't long before he was running them night and day 6 and 7 days a week.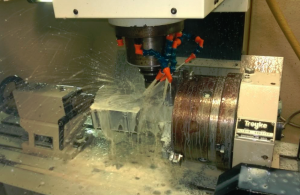 He continues, "So I bought another DPM and a CNC retrofit Bridgeport to try and make myself more productive and that is when I purchased a license of BobCAD-CAM software in the hopes of making my programming more consistent, easier to make part modifications, and basically program jobs faster." Using CAD-CAM software was very new and different to him at the time. While he had used CAD-CAM in the past at his old job, it always seemed foreign and awkward to use. "I am not and have never been one to sit at a computer, ever." He says.
With 9 Multronics CNC machines on the shop floor, streamlining the CNC programming process was the production key to success and BobCAD-CAM software was the right automation solution to help him overcome the challenges he was running into and open the door to other successful possibilities.
"The BobCAD-CAM software seemed to come more naturally than what I had previously used and at a fraction of the price, which allowed me to stay up to date on the software version. This was very important to me because I have seen firsthand what getting stuck to an old software version can do to productivity when people try to jump five versions up to date," he admits.



It wasn't long before the workload had surpassed his machines capability to keep up. In 2012 he added onto my shop tripling its size. The added room allowed me to get a machine with a tool changer and the added capacity required me to step up my programming even more. As of now, they have 6 VMC's with tool changers and 95% of my programming is done with BobCAD-CAM. "I still make the same parts I used to and a wide variety of one off parts. Because of the functionality of BobCAD-CAM, my scrap rate is near zero, where I used to scrap a part or two on a regular basis due to a programming error." He says.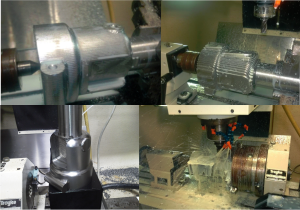 Parts that used to take 45 minutes are now done in 15 flat, with tighter tolerances and superior finishes. While this is in part due to the machines, Allen attributes at least half the time savings to the BobCAD-CAM CNC programming software. Allen describes a job that took much longer to run before BobCAD was in place, "One particular part that comes to mind took a week at the control to program, and with my BobCAD-CAM system it took about a day to draw, program and be making good parts with no scrap."
One of the challenges that Allen was faced with was the limitations he had in the jobs he could quote and then program. With all the CNC machine tool capabilities he had at his disposal he was still limited in the jobs he could take on confidently. Not only this, but even if he did take on a more complex job, the amount of time it would potentially take made it an unprofitable proposition at times. The solution was to start fully using the machine programming capabilities that BobCAD-CAM brought to his shop.







The BobCAD-CAM software has opened up production for the shop while allowing Allen to finish his parts faster while increasing the quality of the finishes he is getting. "I can now quote jobs that I couldn't before because now a customer can send me a solid model via email that I can open with BobCAD and accurately estimate my time. It is so nice when a customer sends a file, I import it, run tool paths off of their model, post it, and the part is done in less time than it would have taken me to write the program previously," he adds.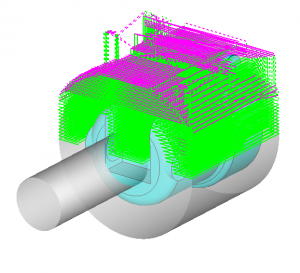 The BobCAD-CAM software includes powerful CNC Simulation capabilities that allow the operator to visualize and inspect all machining operations in action to reduce or completely eliminate the possibility of toolpath gouges or collisions that can scrap parts at the CNC. The simulation also provides job cycle time data which can help in quoting and job planning as well. Thus, adding additional benefits to shops that have multiple CNC machines on the production floor like Mullis Mechanical. The BobCAD-CAM software provides advanced machining automation for 2.5, 3, 4 & 5 Axis CNC programming. Machining "Wizards" to step the operator through the complete process of CNC programming. Wizards remove the guesswork while allowing the operator the freedoms required to program parts the way they are needed to be programmed for faster, more profitable NC programs that are used at the CNC.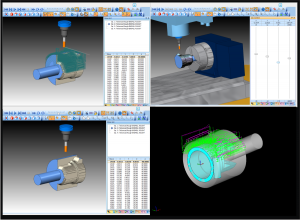 There are multi-tool drilling operations, High Speed Adaptive Roughing machine toolpath features and complete roughing and finishing operations that are developed to reduce cycle times and provide superior part finishes. In addition to overcoming the time and capability challenges, the BobCAD-CAM software has afforded him the capability to utilize his CNC machines 4th capabilities to the extent that he can now do jobs that were just not possible before.

"This has opened new doors for me and galvanized my reputation with my customers. It feels so good when a customer gives me a broken part off of an obsolete machine, I show up a couple of days later with a replacement in hand and the response is, "OH, where did you find one?", because mine is so close to the original they think I couldn't have made it," says Allen as he appreciates the technology freedoms he now has. "Thanks BobCAD-CAM, for bringing my shop into this century and making doing the impossible, just another day at the shop," Allen adds as he moves forward into new found CNC success.
In the end, manufacturing in 2015 will see unprecedented success through the employment of CNC machining automation solutions such as the BobCAD-CAM software.
To learn more about Mullis Mechanical, visit them online at Mullis Mechanical.com
Contact BobCAD-CAM today at 877.262.2231 for more information or download a free CAD-CAM demo today!
Here are links that may interest you to gain insight into the power of CAD-CAM software for CNC manufacturing: