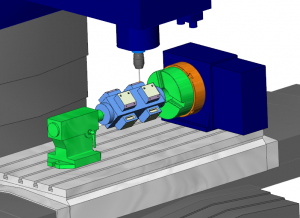 Using CAD-CAM software for 4 Axis CNC machining will give manufacturing an advantage for these types of rotary and indexed parts. Adding a 4th Axis Indexer or Rotary Table to your CNC Vertical VMC or CNC Horizontal mill HMC can also be a huge asset to your shop for many reasons, one of which is increasing your output by reducing setups. Being able to machine on more than 1 side of the part in a single setup is where the efficiency beings. Most applications for a 4th Axis machining is indexing, but axis substitution also known as 4 axis wrapping and rotary machining are common as well. Having a CAM system is crucial to fully unlock your 4th axis allowing you to quickly program these simple yet complex part programs.
What is indexing?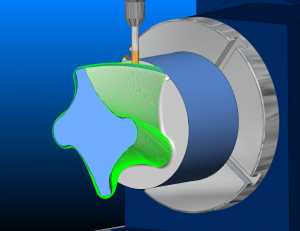 This is where you rotate the part to a fixed posting with your 4th axis. The rotation angle of your 4th axis is the "index". Because you are holding the part in your 4th axis you have 360 degrees of rotation at your fingertips, allowing you to change the part orientation at will. Using a 4th axis instantly increases the access to your parts faces. Instead of have to manual flip a part in a face to machine on a different face of your part, you can index the part and continue machining as needed. Allowing you to machine 2 or more facing of your part in a single setup, huge time saver!
What are the advantages?
– Increase access to part faces
– Increase through put on a setup
– Increase accuracy on multi setup work
– Increase productivity
– Increase part quality

Once you have positioned the part at the proper angle or index position, your ready to perform 2 or 3 Axis milling operations. Then you can index to the next fixed location and repeat until all the features of the parts are machined successfully. BobCAD-CAM 4 Axis Mill Pro software is a great solution to 4th Axis simultaneous CNC part programming. Not to mention that the CAD-CAM system offers simulation functionality as well which allows the operator/machinist to simulate the machining toolpath. This includes other benefits such as Cycle Time calculations and full machine simulation using the CNC machines kinematics. Job Setup Sheets can also be generated automatically to aid in the process.



Learn more about the BobCAD-CAM 4 Axis Pro features HERE.
Download free CAD-CAM Software for 4 Axis CNC Machining HERE.