CNC manufacturing company, CNC-Bearbeitung Donner, in Germany uses BobCAD-CAM to reach higher states of productivity, remove barriers to increasing CNC productivity and provide quality parts to their customers every day.




Steven Donner set out to manufacture parts for customers successfully, but needed to have a faster and more successful process to achieve the results he wanted. And so, he chose BobCAD-CAM for programming parts with his CNC machines to give him the edge he needed. Thus far, he is achieving those results. This is his story.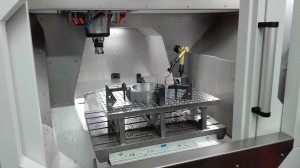 "I started my business, CNC-Bearbeitung Donner, in 2014 as a sideline to my main work as design engineer in machine tool industry. My business grew from a hobby, when I built my first machining center on my own," says Donner. He continues, "This was a good workhorse from 2011 until now. I´m still using it for lower spec. parts and it works great. I do job shop machining and smaller serial production, up to 500 pieces normally, of precision CNC milled parts up 600mm size mostly for the machine building industry," he adds.
Right now, Steven runs this business full-time and he has experienced so much success, they needed another machine. And so, they just ordered a new Fanuc Robodrill CNC machine tool to elevate productivity to meet their demands. They also have a home built 3 axis CNC-Mill with an EDING-CNC Control as well as a custom-built 3 axis high precision machining center with a Siemens 828D Shopmill control.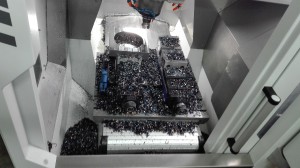 It's always about making chips on the CNC, shop floor. The company manufactures typical parts for the machine building industry, including all materials, watch housings, casting molds, bicycle industry and much more. This type of CNC programming demands very precise parts with amazing tolerances. Because of this, CAM software is required to maintain a workflow that is efficient and allows programmers to be machining parts while parts are being programmed whether they are 2.5 axis or complex 3 axis parts requiring more challenging toolpaths for the jobs. In 2017, the vast majority of CNC manufacturing companies have more than one CAM system as technology has reached a level of incredible capability, faster toolpath operations, easier programming methods that provide machinists with the options that they need. However, not one CAM software will do everything. Therefore, integrated CAD & CAM is important as well as the costs involved. BobCAD-CAM touches all points of being wide ranged in terms of total volume of functionality for 2.5, 3, 4 & 5 axis CNC programming as well as keeping the technology affordable enough for small shops to compete with larger shops because of what can be accomplished with it.
"BobCAD-CAM is the first 3D CAM software I've been using commercially," says Steven. He continues to say, "Before, I used hand written g-code programs, canned cycles at the CNC control or DXF files for 2D CAM. I wouldn´t say I had major issues before using BobCAD-CAM, but now programming is much more efficient, easier, faster and of course I´m able to machine much more complex geometries. This could be seen as a challenge before."
By using the BobCAD-CAM software, Steven quickly admits that he was able to overcome all of the CNC production challenges he had faced before.
Established manufacturing companies are always focusing on lean manufacturing and all levels of productivity enhancing technology to give them an edge. Younger companies are met with a particularly intense set of challenges in their evolution. This is another reason why CAM software has a very important role. "As a startup I was looking for a CAM software which fitted all of my requirements including affordable price, modular so that the product would grow with me as I did, providing options I would need in every stage of my expansion, capability for full 5 axis simultaneous CNC milling for future applications. 5 Axis programming being very important to me as I certainly don't want to switch over to another software when starting with 5 axis machining. BobCAD-CAM is the correct choice in CAM software for our existing operations and the future," says Steven.
Steven Donner | Owner – CNC-Bearbeitung Donner – Germany | www.cnc-donner.de
Download a Free BobCAD-CAM Demo today HERE