Subscribe to BobCAD-CAM's CNC Software Blog
Join your fellow manufacturers! Get BobCAD-CAM's latest CAD-CAM articles straight to your inbox. Enter your email below:
In the previous version of our CAM software, we provided an Update All Geometry feature in the CAM Tree to quickly update changes made to your machine setup location or geometry.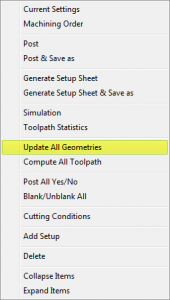 This time, we took it further with BobCAD-CAM V30 making sure to save your start point locations and chain directions of your Mill 2-Axis Feature(s).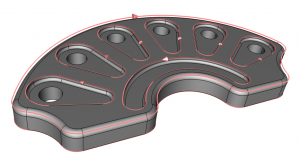 No matter how many features you customized, the update all geometry will keep your settings, even if the machining origin location is modified.

BobCAD-CAM V30 continues to organize it's CAM Tree. Toolpath groups were recently added where users can drop machining features into a folder. These folders can separate finalized operations making it easier to sort drilling, 2D or 3D Milling features. New to V30 is the ability to lock machining features. This keeps finalized machining features locked down, and prevents any recalculations until it's unlocked. Locking features prevent accidental loss to crucial edits of the operation and save accidental recalculation times. Giving users peace-of-mind.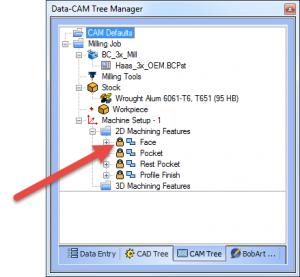 Improved Backplot capability comes standard with V30, showing tool information. Displaying the tools start and end position, if the tool is in a cutting feed, plunge feed or rapid move. If you're using G41 / G42 machine compensation, you'll be happy to know Backplotting picks up your standard tool offset and displays the tool movements based on comp applied to your cutter.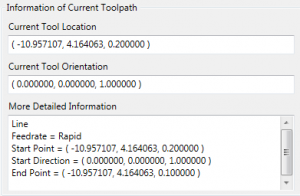 If you work with a round stock, you'll enjoy the new improvements to the Cylindrical Stock in the Stock Wizard. In the past, certain cases would arise where the stock would not enclose all the geometry. We addressed this by proving another means of stock calculation called the Bounding Cylinder. This method uses an algorithm to calculate the smallest possible cylinder to enclose the selected geometry.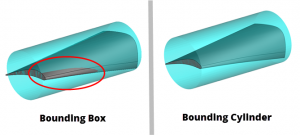 In an era of cloud based products, BobCAD-CAM's commitment to protecting your intellectual property defines this last upgrade to our CAM software. Customers now have the ability to encrypt particular portions of a post processor, or even entire post processors to protect the data within the post from the general public. You can achieve this in three simple steps:

1. Pick your post
2. Pick a name for it
3. Pick who can use it

Encrypted posts can be set to work with any License ID, particular License IDs, particular Customer IDs, or a combination of particular License and Customer IDs. This will be most useful with posts containing custom-scripted functionality.

We have provided CAD-CAM CNC Software products to the global manufacturing industry for over 30 years. BobCAD-CAM software is known to increase CNC productivity for many applications from educational to independent hobby home use. Our products include machining technology for 2, 3, 4 & 5 Axis CNC Milling, Routing, WaterJet, Plasma and Laser machines as well as 2 Axis CNC Lathe.
To find out more about how our dynamic V30 CAM Enhancements benefit you, try our free demo NOW!