With the July 1, 2013 release of the new BobCAD-CAM Machine Simulation Pro which has been made available for all levels of their CNC Software, the company is noticing a curve in the volume of manufacturers that have a significant need for simulation software from the hobbyist to the large scale parts suppliers and cnc businesses. "The success of the new Machine Simulation Pro right out of the gates is pretty interesting," says Chris Corbell who runs BobCAD's marketing division. "Now that we have made the simulation module available for everyone, not just multiaxis pro version customers using our milling cad-cam software, we are seeing a close race between small shops and large scale corporations who are all ordering the software because of its cost versus what it can do," he added.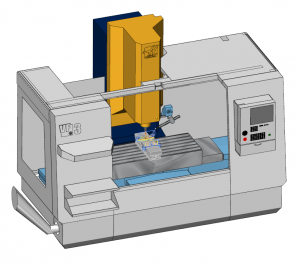 Prior to the release, the Machine Simulation Pro software was only available in BobCAD-CAM 4 Axis Pro CAD/CAM software through their 5 Axis Pro version. Once the product was made available for every level, the hobby cad-cam market jumped at the opportunity to take advantage of the ability to simulate toolpath as well as the actual machine motion within one easy to use interface. The company claims that the low price point of the new simulation product is simply just an added benefit to the customer. When questioned about the price, Corbell answered, "We have always been a low cost-high volume provider. From a business standpoint it keeps you on your toes but our customers do well with it, so we can continue developing and growing into larger manufacturing communities at a steady pace." While large corporations continue to use these powerful simulation features, the hobby-home shop machinists of the DIY world are seeing the value of machine simulation as well. It's a BIG Shop Power at a small shop price situation. One customer was quoted, "BobCAD was instrumental in making my department profitable from the start. I have found it to be unbeatable when it comes to the features you get for the price you pay. An unrivaled value!" said D.J. of Fadal CNC in Meridian, ID
Machine Simulation Pro features include:
Display your full machine during simulation to better visualize parts being cut.
The simulation will allow you to set machine travel limits and detect over travels.
Use Your Machine Kinematics for Full Machine Simulation
Cycle Time Calculation
Dynamic Machine/Material/Tool Viewing
Dynamic Elements/Workpiece & Holder Tree
Simulation Play Controls
Deviation Analysis
Much More!
The long range benefits are available HERE
Call BobCAD-CAM today for more information on the new Machine Simulation Pro at 877-262-2231 or 727-442-3554.